Volta MPs want independent probe into lake disaster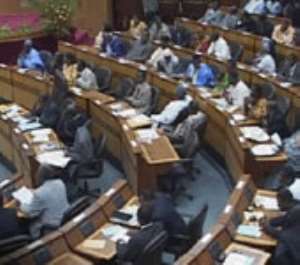 Members of Parliament from the Volta Region have demanded an independent enquiry into last weekend's boat disaster on the Volta Lake.
The MPs say they are saddened by conflicting reports about the death toll.
Survivors of the disaster say more than one hundred people died but government officials say only about 10 people perished.
Those involved in the accident were people who had been evicted from a forest reserve in the Afram Plains.
Secretary to the Volta Regional Caucus in parliament, Gershon Gbediame, says appropriate compensation should be paid to those who have suffered.
"If the government had actually taken serious view of the matter it would have dispatched a team to conduct thorough investigation to at least come out with where the boat started.
Now others are telling us they were market women, others are saying they were victims of the evacuation exercise apart from that what is the status of those who perished, are they the evicted people or are they just market women?
At least some preliminary investigations about those who have been involved and what steps they are taking to cater for those people because we are told that there are about 10,000 who were affected. So we should not sit down for another disaster to occur," he said.
Mr. Gbediame vowed that he and his colleague MPs from the Volta Region will do everything within the law to ensure justice for the affected people.
"We are moving there, we want to see their plight and see what measures we can give and also get other picture as to what was the cause of this and see if there is the need for any compensation to be paid, people to be held responsible and all also to make sure that things of that nature do not reoccur" he said.