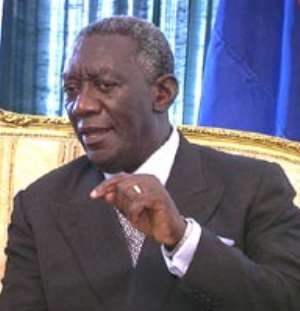 Ghana is to draw a substantial development assistance of about 500 million dollars to boost its economy within the next three months from the US Millennium Challenge Account (MCA).
This followed a favourable report from the Millennium Challenge Corporation (MCC), the US body charged with the administration of the Fund and the Ghanaian Team negotiating the Compact.
The two sides are set to sign the document on July 28, Mr. John Hewko, Vice President of the MCC, told President John Agyekum Kufuor on Tuesday. This was when he led a six-member delegation to brief President Kufuor who is on a three-day working visit to the US on the status of Ghana's Compact Proposal.
When signed, the assistance would be the biggest so far and is expected to impact on the lives of more than two million rural people in 23 districts of Ghana.
Mr. Hewko noted that the funds would give a massive boost to Ghana's economy and said it is for this reason that the MCA Development Authority had been established. The Authority, he said, would report directly to his office to ensure effective management of the Funds.
President Kufuor said the next six weeks would be crucial and asked the two sides to work diligently to meet the set target date.
Ghana's Compact Proposal envisages radical transformation of the country's agriculture through the provision of roads, access to credit, irrigation and other essential infrastructure to help reduce rural poverty.
The MCA is the US' reward for just rule and sound policy decisions, which promote economic growth and reduce poverty.
President Kufuor also received a delegation of ALCAN, a Canadian Bauxite and Aluminium Company that had expressed interest in investing nearly one billion dollars in Ghana's bauxite industry.
Mr. Jacynthe Cote, President and CEO, who led the delegation said they were determined to set up a mine and refinery facility in the country. ALCAN is the third International industry giant to express desire and commitment to take a stake in the bauxite and aluminium industry in Ghana.
President Kufuor asked the company to proceed with dispatch saying, "I want to see the sector roll out as soon as possible."
Ghana has huge bauxite deposits at Kyebi in the Eastern Region and Nyinahin in the Ashanti Region.