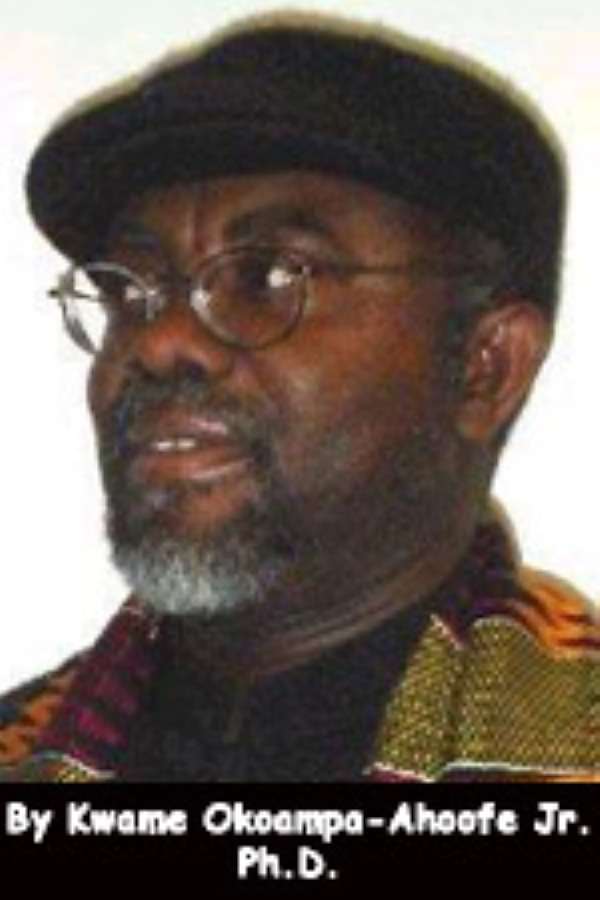 Kwame Okoampa-Ahoofe, Jr., Ph.D.
I really did not want to write about this highly politically charged deaths of either my political opponents or the relatives of my political opponents because even if such a writeup is composed devoid of venom or prejudice, there is also the risk of having the same taken the wrong by readers with deeply entrenched political views, one way or the other, who may decide, almost invariably , to read their own prejudices into such writeups than what really appears on the page. Nevertheless, regardless of what the reaction may be, as a writer by birth and temperament, I have absolutely no choice or alternative but to write as I feel inspired and compelled to and, as usual, let the proverbial chips fall where they darn may be.
Well, the first death that I have decided to write about in this column is that of Mr. Daniel Batidam, the former John Dramani Mahama advisor, or was he a collaborator, on the fight against corruption who was also once seconded by then President Mahama to represent Ghana on the African Union's Advisory Board on Corruption (See "Flashback: NPP Has a Window of Opportunity to Fight Corruption – Daniel Batidam" Ghanaweb.com 1/2/20). The news flash of Mr. Batidam's death at an unnamed clinic at Akuapem-Mampong, in my home turf of the Eastern Region, set me thinking about something that the renowned African-American Civil Rights Activist, the Rev. Alford "Al" Sharpton had to say in the Aronow Theater's auditorium at the City College of New York of the City University of New York in the spring season of 1989.
An 18-year-old African-American youth by the name of Yusef Hawkins had been chased down the street and brutally beaten to death by a racist white mob, in the predominantly Italian neighborhood of Howard Beach, in Queens, New York City. Well, for now, we shall reserve the details of that most horrific incident for another column and a better suited time. Nevertheless, what vividly sticks in the craw of my mind, is what Al Sharpton, as Rev. Sharpton is popularly known, said when he clambered up the podium on the stage of the Aronow Theater and solemnly declared as follows: "No sermon is more difficult for any professionally trained minister of the Christian Gospel to deliver than the memorial service of a toddler." Rev. Sharpton went on to clarify precisely what he meant. Like the four-year-old toddler by the name of Gavin Cato, whose memorial and burial service he had just recently delivered in the Crown Heights Section of Brooklyn, also in New York City, the funeral of Mr. Yusef Hawkins was equally extremely difficult for him to deliver because, in both cases, the victims of inner-city violence and the subjects of his eulogy were rather too young to have achieved anything publicly significant or worthwhile in life.
Nevertheless, the globally renowned Baptist preacher and African-American Civil Rights Activist had absolutely no choice, whatsoever, in this matter but to simply come up with something worth the time and attention of his congregation or audience. Anyway, reading the obituary – actually a couple of obituaries – on the passing of Mr. Daniel Batidam, I couldn't help but feel like Al Sharpton at a memorial service trying hard to pay that which he deemed to be a very fitting tribute for a dead toddler or teenager whose life of achievements or laurels had yet to take shape. You see, as advisor to former President John Dramani Mahama, Mr. Batidam staunchly doubled down and played the role of the most passionately partisan supporter and propagandist for the promotion of official corruption by the Mahama government that I stopped following anti-corruption activities or activism of the man. And now that he has finally exited this world, life and Ghana's political stage, I sincerely don't know what to think and how to feel about Mr. Batidam's death.
What actually did it for me, in New Yorkese or New York City Street-Speak, I suspect, was when the now-Candidate John Dramani Mahama seconded our deceased subject to the Addis Ababa, Ethiopia-based African Union (AU), as Ghana's representative in the fight against corruption. That was also when I lost all respect for the Gaddhafy-inspired African Union. I was, indeed, not the least bit flabbergasted to learn that Mr. Batidam had lost quite a remarkable number of some well-known and notable friends. I also don't know whether the passing of the man leaves our country any worse or better for the same. It well appears that Mr. Batidam later found a greater and better use for himself and whatever irreparably corrupted talent or aptitude he might have possessed in closely monitoring and passing judgments, largely negative and counterproductive judgments, on the corruption-fighting policy initiatives of President Addo Dankwa Akufo-Addo and the ruling New Patriotic Party (NPP).
I am also pretty certain that Mr. Batidam had distinguished himself in his chosen field of professional practice. I just simply can't put my fingers on any single one of such remarkable achievements. But, of course, I am only one of his former observers and critics. Nevertheless, may his soul rest in peace and whatever quietude it may desire.
By Kwame Okoampa-Ahoofe, Jr., PhD
English Department, SUNY-Nassau
Garden City, New York
January 2, 2020
E-mail: [email protected]
*Visit my blog at: kwameokoampaahoofe.wordpress.com Ghanaffairs