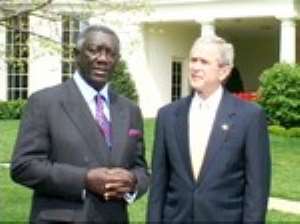 GHANA is to access more than 500 million dollars from the Millennium Challenge Account (MCA) of the United States of America.
This follows the completion of due diligence on Ghana's Compact Proposal and the smooth progress of the negotiations between Ghanaian officials and the Millennium Challenge Corporation (MCC) team.
On Tuesday, at the Blair House here, where President J. A. Kufuor is being housed, a six-member team from the MCC and Ghana's team of the MCA briefed the President on the progress made so far.
Presidential Press Secretary Kwabena Agyepong told journalists after the meeting that the two teams assured the President that they were set to sign the agreement on July 28.
Ghana's compact of about 500 million dollars will be the highest since the inception of the Account two years ago.
It is expected to have positive impact on more than two million rural dwellers by reducing poverty and deprivation.
It will bring social and physical infrastructure as well as credit facilities to the doorsteps of inhabitants of 23 districts in the country in order to modernize and diversify agriculture.
The MCC team, according to Mr Agyapong, intends to requesting from its investment committee, a further 11 million dollars in addition to the three million that was made available last year for pre-compact signing activities.
He quoted President Kufuor as saying that the next six weeks prior to the signing of the compact would be used to work out details of the proposal and urged the two teams to work diligently to accomplish it because it would give a major boost to the national economy.
Earlier, President Kufuor received a delegation from ALCAN Bauxite and Aluminium, the third aluminium producing company from Canada, which briefed the President on the progress made so far to invest in Ghana.