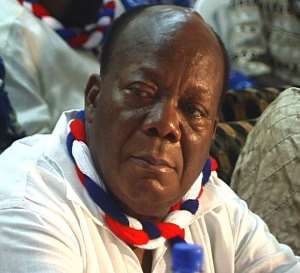 Even before the sting in "Esseku Gate" could be adequately diluted, the ruling NPP may be heading for another nerve wracking session.
This time, it would be with the Commission for Human Rights and Administrative Justices (CHRAJ) and the Serious Fraud Office (SFO).
While the Commission has confirmed that preliminary investigations it conducted into media allegation of unauthorised money transfers against the Minister for Road Transport makes Dr. Richard Anane vulnerable, the SFO insists it is more than expedient that an investigation was carried to establish whether the state had been affected by the allegations made by party chief Esseku.
NDC insiders have however refused to be drawn into what they describe as skewed investigations by organizations that do not have substantive heads-obviously referring to the Serious Fraud Office.
Newspaper reports had suggested that Dr. Anane transferred huge sums of money to his mistress, Ms Alexandria O'Brien in the US for the upkeep of their child.
Acting Commission Anna Bossman said on Monday that the commission had observed and recommend a full- scale investigations against the minister.
She confirmed that hearing notices have been dispatched to Dr. Anane and other witnesses as far as those allegations were concerned and that evidence would be gathered for final execution of that case.
Dr. Anane has also recently been linked with allegations that a road construction firm, Sonitra, could have been involved in the issue of kickbacks.
As to why it had taken so long for CHRAJ to come out on the issue, Ms. Bossman said as a public institution responsible for investigating matters concerning human rights and corruption, the commission believed and practiced principles that enhances proper execution of natural justice to persons and would normally hesitate to pronounce action.
Answering press queries after the launch of this year's Human Rights and Anti-Corruption Week celebrations in Accra, Ms. Bossman, a member of the Ghana Anti-Corruption Coalition (GACC), also explained that CHRAJ and other anti corruption bodies were interested and committed to the broader views of corrupt related issues, even though it may not be prudent to continually inform the public on the various steps being taken by the commission.
She further described current discussions on allegations of kickbacks at the seat of government as alleged by NPP national chairman, Haruna Esseku as "a developing story," of which the press have their angle with political interest groups also following their own lines.
However the "main concern is to see how certain actions of public officers affect the rights of the masses; we are interested in the broader issues to do with if there is a public contract, it's adverse cost on the people."
Earlier, Ms. Bossman had intimated that the fight for human rights and against corruption share a great deal of common ground, saying it was highly unlikely that any government that does not believe in transparency and accountability would respect the rights of its people.
She also ruled out any impact if people are apathetic and indifferent to distinguishing what corruption is and why it has to be investigated.
In the case of the Serious Fraud Office, the interest for the nation would be the extent to which both public officers and agencies are involved in the unfolding allegations.
SFO's Theophilus Cudjoe said his outfit would also want to determine whether companies that donate to political parties establish they do in their books.
It would also crosscheck the books of individuals making those donations as well as their commitments to the internal Revenue Service as required by law.