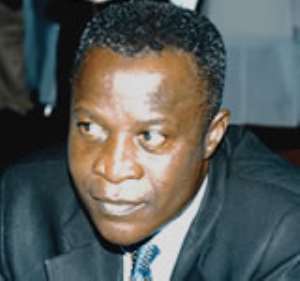 The economy of Ghana has recorded single digit inflation the first since May 1999.
The Consumer Price Index (CPI) eased 2.2 per cent points from 12.1 per cent in February to 9.9 per cent last month.
Although in May 1999 inflation was 9.4 per cent, it rose sharply to 40.9 per cent in January 2001.
Finance and Economic Planning minister, Kwadwo Baah Wiredu announced this on Wednesday when he took his turn at the meet the press series in Accra.
He said the single digit which had been targeted for a long time should help the private and public sectors to plan.
Mr Baah Wiredu said coupled with generally improved economic conditions in the country, the economy posted a positive outlook, which should accelerate growth, based on the investment strategy and reforms that underlines the Growth and Poverty Reduction Strategy Phase II.
The finance minister said with the efficient use of the fiscal space created by the multilateral Debt Relief Initiative and the implementation of prudent policies, Gross Domestic Product (GDP) growth could be raised into the range of seven to eight per cent needed to achieve the Millennium Development Goals (MDGs).
Reviewing the economic state of the country, the finance minister said Ghana's economy has shown resilience in the face of record-high crude oil prices, a vindication of the prudent use of resources in the last five years.
That feat, the minister explained was also confirmed by the various findings of survey's and research studies by reputable international authorities which had designated Ghana an attractive destination for investment.
He explained that in spite of the slow down in the growth of money supply credit to the private sector continued to grow, reaching 14.9 per cent of GDP by December last year, from 13.1 per cent the same period in 2004.
The finance minister said having improved the macroeconomics fundamentals of the economy, "the economy is poised to make the transition from stability to high growth".