Rawlings Attacks Bush & Blair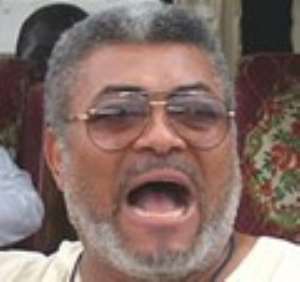 Former president Jerry Rawlings has attributed the impending trial of officials of his administration to the influence of western leaders on heads of state of developing countries including Ghana. The former President told journalists on Wednesday that, leaders like President Kufuor have been perverted by the approach America's George Bush and Britain's Tony Blair adopted in handling the war against terrorism in Iraq and elsewhere.
According to him, a suit against officials of the NDC including his wife for causing financial loss to the state is a primitive approach inspired by the immoral values held by Tony Blair and George Bush. He spoke to the press in his residence after accompanying his wife, Nana Konadu Agyeman-Rawlings to the Fast Track Court.
"Quote me in my direct words, this primitive behaviour once again from Kufuor, people like Nana Akuffo Addo, Jake and their cronies can only happen because, because moral values in international politics have been seriously dented and damaged by the leadership behaviour of Tony Blair and President Bush. They probably meant well but I'm afraid their manner of approaching the fight against their so called enemies has rather undermined the culture of democracy.
So what do we see in the third world, they are taking the cue of the use of the blow man tactics, the use of the rod and have put aside the sense of Justice and what is right and they are using force, they are using terror tactics, deceit and killings to survive, this is unhealthy," he said.
Mr Rawlings also took a swipe at the Kufuor administration saying they have failed the people. He said the patience of Ghanaians is being stretched by the hardship they are going through. "Kufuor's regime has reached its limits, his so called protectors led by Tony Blair and Bush has even grown tired. I am asking their ambassadors to denounce what I'm saying.
I know what I'm saying is true and they've decided finally to advice Kufuor, you better do something about it otherwise you will undermine the stability and security of the state. Ghana is walking on the edge of the cliff and we all know it. There is a lot of suffering and anger, do something about it.
So I believe Kufuor may have decided from this year he is going to start singing anti-corruption sermons considering that you know its become too obvious that so much is known about corruption, so for them as typical NPP politicians, lets us throw the mud at even the clean ones as well, so they went for Preprah, Totobi, Nana Agyeman etc, its really sad," he said. The former 1st Lady and 7 others are to be tried on 30 charges related to the divestiture of the Nsawam Food Cannery.