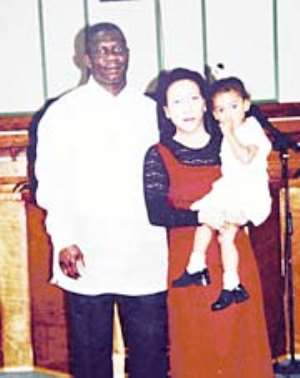 A migrant worker from Ghana illegally in Israel was freed from a Ramle jail Wednesday, days after his 2-year-old daughter's kindergarten classmates held a protest against his deportation.
Joel Manar's release came after an Interior Ministry decision to delay his deportation by one month.
Manar was arrested next to a Ghanaian church in Haifa without a residence permit, and was slated to be deported at midnight Sunday. An urgent petition to the Tel Aviv District Court by his lawyer, Tal Proshan, secured the stay of execution.
Some 20 of Jarmay's toddler classmates, along with their parents, day-care staff and activists who aid foreign workers, staged a protest Sunday outside the government center in Tel Aviv against Manar's deportation.
Judge Uzi Fogelman issued a temporary injunction barring Manar's deportation, at least until the Interior Ministry delivers its response to the arguments in Proshan's petition and until a hearing takes place on the matter.
Should Manar be deported, his wife Ramdius Kizagan and daughter Jarmay will be left alone in Israel. According to Proshan, Interior Ministry sources told him Monday that Manar would be deported.
The officials said that Prime Minister-designate Ehud Olmert had decided to intervene after reading a newspaper article on the matter.
Ramdius has a live-in job and cannot see Jarmay frequently. Manar has been the primary caregiver, which is sufficient grounds to secure his release.
However, the Interior Ministry and Immigration Administration insist that Manar is not a single parent and therefore may be deported.