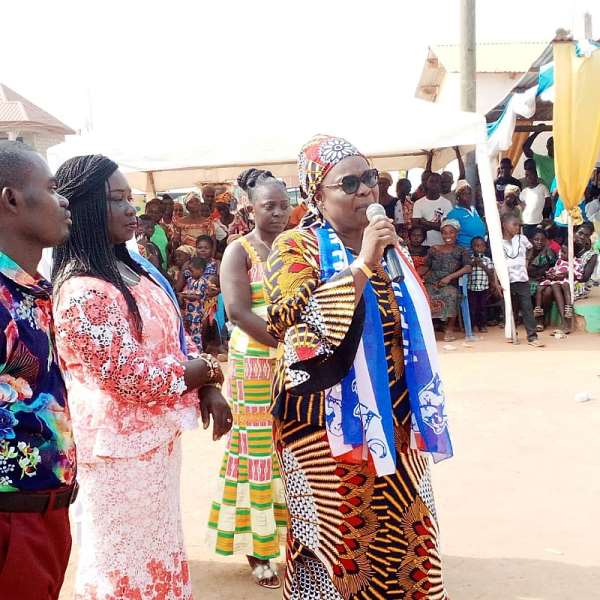 Member of Parliament for Gomoa Central Constituency, Hon. Naana Eyiah has announced her intention to seek re-election to contest the upcoming NPP parliamentary primaries amidst massive support from her constituents.
Long before making her intention of seeking re-election, the delegates made up of polling station executives, electoral area coordinators and council of elders among others had pressed on her to pick up nomination forms to contest the primaries.
They attributed her inspirational leadership couple with cordial relationships with the constituents.
So when Hon. Naana Eyiah finally announced it at separate durbar grounds at Gomoa Biseadze, Gomoa Akropong No.2 and Gomoa Esikuma about her intention, they hailed the announcement with joy due to her brilliant performance over the past three years.
The durbar was to climax their annual Akwambo festival and also to raise funds to support self-help projects in the communities.
They lauded Hon. Naana Eyiah who is also the Deputy Minister for Land and Natural Resources for spearheading development in the constituency.
According to the Chiefs and people, Hon. Naana Eyiah represents a real role model to them in Gomoa Central which ought to be emulated by those holding various leadership positions in every sector to enhance national development.
" Hon. Naana Eyiah is a role model for Gomoa Central Constituency. Her maturity towards issues is unprecedented in history of the Gomoa Central. She is humble, respectful and down to earth. This is the kind of leaders we had wished for Gomoaman," Nana Odum Amanfo IV, Chief of Gomoa Akropong No.2 in an interview with this reporter recounted the brilliant performance of Hon. Naana Eyiah.
He continued, "Hon. Naana Eyiah has given us bags of cement, trips of sand, iron rods and other building materials towards the project which has contributed significantly. It has also reduced financial burden on the people because the community durbar project is being constructed through individual contributions and levies, it could have delayed its completion."
Chief of Gomos Biseadze, Nana Gyatoa IV, also commended Hon. Naana Eyiah for contributing towards self-help projects in the community.
He however appealed for a market center and extension of electricity supply to other parts of town to boost economic activities of the people.
Addressing the people, Hon. Naana Eyiah flanked by DCE for Gomoa Central, Hon. Benjamin Kojo Otoo, Presiding Member for Gomoa Central District Assembly, Hon. Kweku Nyarko Koomson, Gomoa Central NPP Chairman, Alhaji Omar Adam and a host of NPP constituency Executives, commended the Chiefs for appreciating her little effort.
"I couldn't have done all the good things you are praising me for without your support and cordiality. I also thank you for being with me all this while. Together, we can move Gomoa Central forward to improve the well-being of our people. Let us all rally behind His Excellency Nana Addo Dankwa Akufo Addo led NPP government to continue what it had started. As you think of voting massively for Naana Eyiah as your Member of Parliament, do same for Nana Addo to do more.
"Four More For Nana, Four More to Do More. We are all witnessing the brilliant performance of the NPP government. The physical evidence are there for everyone to see," Hon. Naana Eyiah noted.
At Gomoa Esikuma, the Gomoa Central Member of Parliament pledged additional 50 bags of cement and others to facilitate early completion of the community center.
She noted that the construction of the Gomoa Ankamu- Dawurampong- Gomoa Afransi road when completed would open up the area to commercial activities and eventually reduce poverty in the area.
Hon. Naana Eyiah hinted that the local CHPS Zone Compound would be equipped to offer quick healthcare delivery.