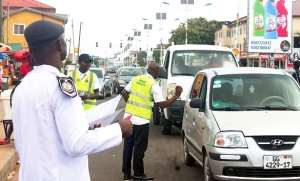 The Amansie South Constituency Chairman for the ruling New Patriotic Party in the Ashanti Region Mr. Akwasi Abu Bonsra has charged the Ashanti Regional Motor Traffic and Transport Department Commander Chief Supt. Emmanuel Adu Boahen to as a matter of urgency withdraw their planned 'Operation Produce Your Driver's License 'due to take place on February 3, 2020 in the Ashanti Region.
According to Chairman Abu, the police Command cannot blame the recent road accidents in the region on the conditions of Drivers' license adding that there was the need for the Ashanti Regional MTTD Police administration to take a second look at measures in reducing the road accidents.
The Ashanti Regional Motor Traffic and Transport Department Command on January 16, 2020 issued a statement and announced that effective February 3, 2020, all the Drivers in the region would have to produce their license for the officers on duty to inspect among other things its validity insisting defaulting Drivers would be arrested and face prosecution.
But speaking in an exclusive interview with otecnews' Asante-Yeboah Benedict on Sunday January 26, 2020, Mr Akwasi Abu Bonsra maintained that the timing of the exercise was wrong while questioning the rationale behind the operation taking place first in the region Ashanti Region.
He however suggested to the Police administration to focus on ensuring that road signs are placed at accident prone areas on our highways, the need to increase road patrols and also educate the drivers on the cloudy weather conditions in recent times to help reduce the carnage on our roads.
Though the operation is yet to take place Mr. Akwasi Abu Bonsra hinted that he would be compelled to petition the Ashanti Regional Chairman of the NPP, Chairman Wontumi, the Inspector General of Police and the President Nana Akuffo-Addo if the Regional Police administrations refuse to heed to his urgent call.
He explained, "Nobody is impeding with the operations of the Police in the region but how should this exercise come off first in the Ashanti Region while we are in an election year. We all know how some police officers would easily take advantage of the situation.
The weather has become very cloudy and therefore the drivers must be careful driving especially in the nights while the police increase roads traffic education because driving license has little to do with the major causes of road accidents. Let me also say that the IGP, the Regional Chairman of the party Wontumi and the President himself must hear this as soon as possible to bring the operation to a halt."