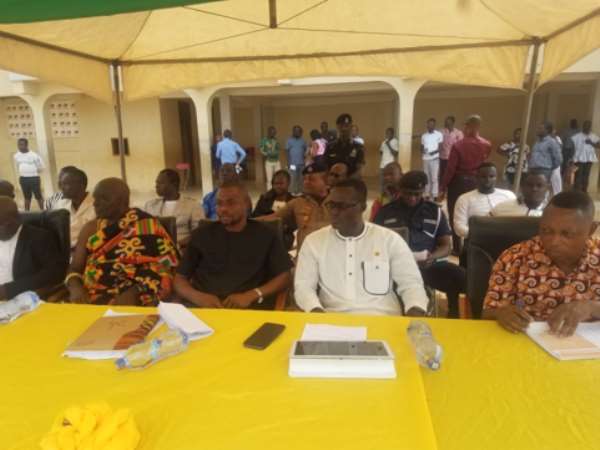 Dignitaries and a cross section of participants at the function
The Tano South Municipal Assembly during its inaugural session failed to elect the Presiding Member of the Assembly but sworn 39 Assembly Members and 18 Government appointees into office by His Worship Samuel Bright Acquah
At the election to elect the new Presiding Member of the Assembly, voting took place two consecutive times and non of the contestant had the two-thirds of the voters and the election was postponed by the Municipal electoral officer.
The program which took place at the forecourt of Bechem community Centre saw dignitaries like Hon Collins Offinam Takyi, Municipal Chief Executive for Tano South, Hon Evan Opoku Bobie, the Ahafo Regional Minister, Nana Fosu Gyeabour Akoto II, the Omanhene of Bechem Traditional Area, Hon. Opuku Atuahene former DCE Tano South, Hon. Bukari Zakari Anaba former DCE Tano South, Municipal fire commander, DO II Abraham Tam Sacky, Heads of department and Political Parties' executives.
The Municipal Chief Executive, Hon Collins Offinam Takyi in his welcome address congratulated Assembly Members, elect and Government appointees on their appointment into office and urged them to work hard to ensure the Municipality is developed.
He used the occasion to mention some of the achievements made in Municipality by NPP government and outlined the construction of dormitory and classroom blocks for Presbyterian Senior High School at Bechem, Samuel Otu Presbyterian Senior High School, the commencement of Bechem to Techimantia road amongst many others.
The minister for Ahafo Region, Hon. Evans Opoku Bobie who represented the President of the republic, H.E Nana Addo Dankwa Akuffo Addo in his speech said the president sees this inauguration as another win for the democracy of Ghana especially the local government.
He said the development of Tano South is largely dependent on the members and urged them to work tirelessly to bring prosperity to their people and charged them including the unit committee members to mobilize revenue for the Assembly.
He appealed to the residents to vote massively for the NPP in 2020 to enable His Excellency Nana Addo Dankwa Akuffo-Addo and his government completes all projects which have been initiated by the current government and called on Nananom and all to support the assembly to perform its mandates.
The Omanhene of Bechem Traditional area, Nana Fosu Gyeabuor who chaired the event said, the inauguration of new assembly members was a great day for the municipality and pledged that he would work with the assembly to bring development and informed the new assembly Members to ensure peace and unity has prevailed among them.