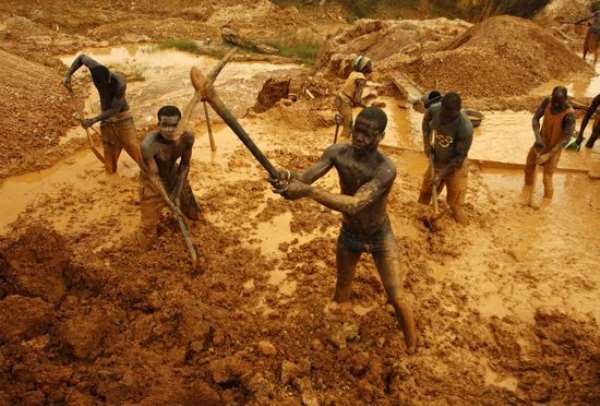 I once warned, in an article, that "if you kill a snake and you don't cut off its head, it could resurrect itself and come back to bite you!" (See: If You 'Kill' A Snake And You Don't Cut Off Its Head)
This warning, I pointed out, came from the wisdom that our ancient ancestors compiled for themselves and their inheritors, through their very close and obsessive observation of Nature. Exposed to brutal Nature as they were, they wouldn't have survived -- to give birth to us -- without this vast store of impeccable knowledge.
The accuracy of the contents of this store of ancient wisdom of is, in fact, confirmed by some of the greatest scientists in today's world, who tell us that the scientific method stipulates that no matter how attractive a theory might be, it is invalid if it is contradicted by the results of experiments conducted on Nature.
In the past two years, the Government of Ghana has tried to put an end to the dangerous enterprise known as galamsey. It has put troops, in the form of "Operation Vanguard", on the trail of the galamsey operators. But in a clever approach based on the well-proven and efficacious strategy of depleting both "carrot and stick" in its modus operandi, It has sought to try to convert their operations from illegal and harmful practices, into legitimized, harmless methods. It has even paid them money to teach them to adopt harmless methods of mining.
But as in many other cases where good sense comes up against man's selfish propensity to make money quickly and without too much toil, the approach is simply NOT working.
Where is the evidence?
Firstly, the Ghana Water Company Limited (GWCL) has come to the empirical conclusion that it must drastically reduce water supplies to some people in parts of the Western Region, including the conurbation of Sekondi-Takoradi, because – once again – the water in the rivers from which the company draws water, has become too turbid for machines to refine in the required quantities. The Ankobrah and the Prah, in particular, have both been very badly affected AGAIN. And good old "Holy Tano" is unusable, though, in its case, a contribution from another source of pollution is largely responsible for its poisonous state..
The GWCL Director of Communication told a media outlet that "the resurgence of illegal small-scale mining, fuelled by the dry season", had resulted in "extremely high turbidity of the dwindling water sources", thus compelling the company to spend more than usual in treating water.
"In Takoradi, for instance (he said), we are praying that we should have early rains". He specified that "In the next three to four weeks, if we don't get rains and the galamsey operations also do not stop, we may have to shut down the treatment plant at DABOASE. That is how serious the situation is.... There isn't enough water and the little water that is available is also so turbid....It silts [up] the intake area. So, we are unable to abstract enough [water]. It's not economically prudent to have to be treating water, for it just to go to waste."
Other media reports tell us that the Minister of Lands and Natural Resources, Mr Kwaku Asomah-Cheremeh, was so incensed by what he saw in one galamsey locality that he undertook to "deploy 60 armed soldiers, similar to the Operation Vanguard team", to crack down on the activities of the galamseyers. Mr Cheremeh said this while on an impromptu visit to the Oda River Forest Reserve, in the Amansie Central District of the Ashanti Region. There, he saw a resurgence of 'galamsey' -- in the supposedly restricted area, namely, the forest reserve.
The Minister stated: "Clearly, what we are seeing here and what we have gathered shows that [the] Chinese are [still] engaging in this illegal mining and destroying our forests; of course, with the support of local collaborators."
According to one report, "During the visit, the Minister's team found eight excavators, 18 fuel storage tankers, a number of Chanfan machines" and other equipment in four illegal mining sites, "which indicated that the illegal mining business was in full force" there.
. "Officials of the Forestry Commission and forest guards were helpless in the situation since the illegality was said to be perpetrated by some Chinese nationals, with support from locals who had the backing of 'big men" (the report stated).
The Minister of the Environment, Science and Technology, Professor Kwabena Frimpong-Boateng, also gave an interview to the Daily Graphic in which he expressed profound disappointment with the courts, the Attorney-General's office and the Office of the Special Prosecutor, for not playing their full part in the struggle against galamsey. (See
Additionally, one fire-eating NPP Member of Parliament has synthesized the general call for an intensification of the struggle against galamsey by calling for high-level personnel changes within the Government itself!. Those in charge of the campaign against galamsey (he said) had "failed" and should not be allowed to bring "further shame" to the President, Nana Addo Dankwa Akufo-Addo.
The MP alleged that "some of those supposedly fighting against galamsey" have "turned the galamsey fight into a gold mine and have disgraced the President".
What these sad expressions of disappointment -- and even anger anger -- indicate clearly is that a drastic new approach to the anti-galamsey operation is now called for.
According to Professor Frimpong-Boateng, at least twenty billion dollars or thereabouts is required for restoring the polluted rivers and water-bodies to a potable quality. The expense of reclaiming the land that has been turned into mounds and craters (which sometimes look like an apocalyptic moonscape-type of wasteland) by the galamseyers, will, of course, have to be factored into in the restoration process and budget.
Now, twenty billion dollars is estimated to be worth between one-third and one-half of Ghana's Gross Domestic Product (GDP) for ONE YEAR (2017 figures.) If a group of citizens are causing such a horrendously costly damage to the economy, then logic suggests that they should be fought, tooth and nail, in the same manner that we would fight a political insurgency.
Indeed, a political insurgency would probably not cause so much damage, although, of course, its effect would be far more immediately personal and nasty to all residents of Ghana.
Now, I daresay that if we had a political insurgency, crack teams drawn from Military Intelligence, the Bureau of National Intelligence, the Criminal Investigations Department, the Economic Crimes Investigation Unit and National Security would all be co-ordinated into a powerful unit charged with combating the insurgency.
The environmental devastation being wreaked by the galamseyers amounts to more than a political insurgency, because it seeks to ruin the nation for its populace who have not yet even been born.
Primarily, the biggest threat to the current campaign against galamsey is the active corruption of personnel involved in the campaign's operations. The programme is practicable but if the personnel implementing it allow themselves to be corrupted, then the programme, as such, is worth nothing.
So, the answer is to prevent or forestall this implosion caused to it by corruption. Fast-moving, easily replaceable units should be formed to observe the officials at work, arrest and prosecute quickly, all those caught or detected to be in league with the galamseyers. The state, with an enhanced district and regional law enforcement apparatus, has the means to do this better than any journalist or group of journalists, however audacious they may be. But, of course, the state can only use its powers if it employs experts to turn its district and regional personnel into reliable and incorruptible individuals.
This is not impossible: the armed forces by and large achieve such objectives by deploying very strict military police personnel into all areas where soldiers might go into town. Surely, they can teach the society at large how this methodology might be gerealised?
These units should aim at, and be assaisted by a ruthless punishing regime, to make it impossible, or, at least, very costly (socially) for anyone, no matter hw highly-placed, to collaborate with the galamseyers. For, indeed, corruption has made the current anti-galamsey campaign a laughing stock to many.
"Operation Vanguard" personnel constantrky find that galamseyers have been tipped off about impending visits by "Operation Vanguard" to their areas of operatrion. Sometimes, even when they succeed in arresting galamseyers, the arresting is the end of the story. The police; immigration officials and others who should process the galamseyers and send them to jail, are influenced by money to just allow the cases to die.
And no-one seems to ask this simple question: WHAT IN HELL HAPPENED TO THOSE PEOPLE WHOM OPERATION VANGUARD PERSONNEL ARRESTED ON SUCH AND SUCH A DATE? Even if the question is asked, no-one will answer it, for Ghanaian officialdom has turned "STONE-WALLING" into an art in which they have no competitors in the whole wide world.
The reality is that the police often assist those galemseyers unlucky enough to be arrested by dutiful "Operatrion Vanguard" personnel. The police know that "Operation Vanguard" personnel are often deployed in the bush, and in any case, have no mandate to chase after the police to ask them what happened those they arrrest and take to the police. "Operation Vanguard" personnel include police officers, don't they? Yep! If you put salt into water, which absorbs the other?
Lawyers, magistrates and judges, if apprised of galamsey cases, willy-nilly give the galamseyers an easy ride. Respected citizens do not scruple to bail arrested galamseyers or intercede on their behalf with the authorities. This would, in normal circumstances, provide prima facie evidence that these intermediaries do profit financially, albeit indirectly, from the devastation of our rivers, streams, and water-bodies. As the MP quoted above observed with unintended irony: "they have turned the anti-galamsey operation into a gold mine!".
All these elements in the society should be ruthlessly targeted and hunted, and be made to know that the Government of Nana Addo Dankwa Akufo-Addo will not stand idly by, whilst they allow the love of money to induce them to collaborate with those who want to destroy the heritage we are obliged to leave to our children's children.
Our salvation lies in our own hands. We have the brain power and the physical courage to crack down more severely on those destroying our country and its natural resources. If we sit down and fold our arms -- both literally and figuratively -- the inheritors of our nation, will, in future, defecate on our graves -- and for a very good reason.