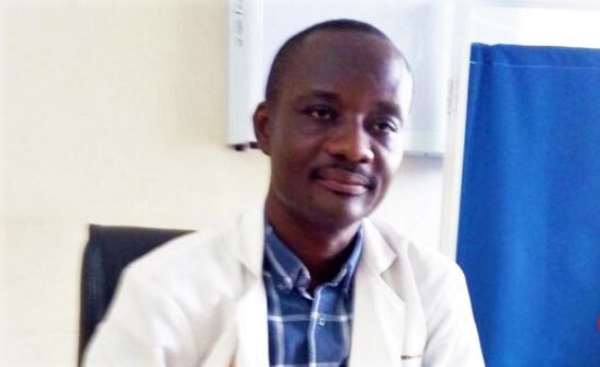 Dr Samuel Amanamah, A Consultant Urologist at the Kumasi South Hospital
A Consultant Urologist at the Kumasi South Hospital, Dr Samuel Amanamah, says it's time Ghanaians pay critical attention to erectile dysfunction (ED) among men.
He said when not well treated, puts men at risk of getting stroke and heart attacks.
According to him, it is as a result of people turning to aphrodisiac mixtures which end up compounding the issue as it also raises their risk of contracting other diseases.
Also, the impact of ED goes beyond the medical condition with an adverse social impact on families and societies.
In an interview with the Daily Graphic, the consultant urologist said about 50 per cent of men between the ages of 40 and 70 in Ghana suffered the condition.
However, he said, studies show that as low as 10 per cent seek professional help as most of them try to find solutions themselves until it was late.
rectile dysfunction (ED) is a condition in which a man regularly finds it difficult to get or keep a firm erection.
The condition is a medical condition but can also be psychological.
Medical experts say organic causes are usually the result of an underlying medical condition affecting the blood vessels or nerves supplying the penis.
Symptoms
Dr Amanamah advised men to look out for the signs of ED since they manifested themselves in various ways, namely absence of early morning erection and feeling of cold sensation at the tip of the penis.
"Others have strong erection initially, but that dissipates within seconds. All these symptoms end up with the inability to attain and maintain an erection good enough for sexual intercourse," he explained.
"Diabetes, hypertension, priapism (prolonged erection) and dyslipidemia (high cholesterol) are the notorious ones," he emphasised.
Stigmatisation
Dr Amanamah, who is also a Sexopathologist, said it was unfortunate that many had not seen ED as a disease that needed to be investigated to find out the causes and treated like any other disease.
"Over the years, men with ED have been stigmatised, making them feel inferior to other men. Unfortunately, this has found its way into the legal books and crept its ugly head into our theology in certain jurisdictions. Marriage in these jurisdictions is consummated only after successful sexual intercourse irrespective of the vows made or signed.
"ED patients are stigmatised and traumatised psychologically with continuous tensions at home,' he stated.
Unprofessional treatment
Dr Amanamah indicated that the grave nature of the condition and the unfortunate stigmatisation had pushed desperate patients to seek help from unprofessionals, which usually left them worse off.
This, he added, had made underground and unprofessional treatment thrive to the detriment of the health of some ED patients.
A good treatment for ED, the urologist said, included identifying the causes of the ED, adding that any treatment that did not seek to find the root cause and deal with it "might just see some improvement in the erection for a while, only for the ED to bounce back because the cause of the ED is still present and progressing".
Treatment
The consultant urologist said orthodox medicine was the best treatment for ED irrespective of age, stressing that not everyone with the condition would need surgery (implant) as some would need counselling, others oral medication, others injections and others medical devices.
"But the bottom line is that everyone can be treated," he said.
---graphic.com.gh