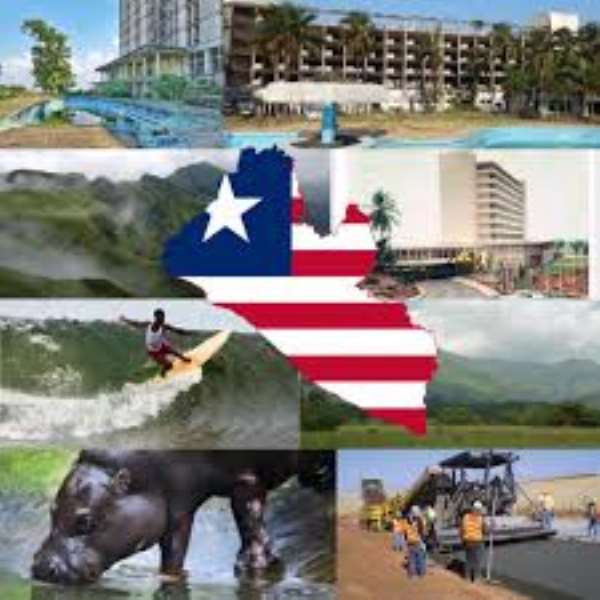 Africa's oldest republic Liberia founded in the 18.00's impoverish status which has rated her to be the World number poorest nation is due to the lack of interest by those heading the tourism sector of this rich historical Nation which has lots of natural heritages and attraction to draws millions of visitors routinely!
To the disbelief of millions of Liberians, their Country (Liberia) was declared the World best tourism destination in the year 2019 and said video paraded YouTube site up to present but yet the dividend is far from being felt by the poverty stricken people of this Nation!
I keep wondering, as if the right kinds of people with the relevant expertise are yet to be placed in the Tourism Sector of the Ministry of Information? Again, noticeably regimes come and go yet that sector of the Liberians economic that is sitting on millions of dollars of the Country's wealth laid dormant while the Country's revenue languish in deficit
Late 2019, precisely in December a Liberian family who often come home to identify with less fortunate communities in the rural parts of Liberia with giving out of clothing's, educational materials, and medical items came along with an black American female of Jamaican origin to have touch of what she read and was told about Africa's oldest Republic.
I had the opportunity to accompany them to one of the deprived community in Western Liberia in Bomi County where they distributed these items to these less fortune forgotten about Liberians deep in the Gola forest where the only social life there are cutting palm nuts and coal burning with students walking six hours to and from the only NGO's built school in that part of Liberia!
The African daughter of Jamaica decent name withheld was shocked to notice that in this day and age Africa's oldest Nation is yet to provide her people with internet facilities, safe drinking waters and electricity just few miles away from the Country's capital Monrovia precisely four hours' drive!
I recalled vividly, during our bumpy ride on this dusty road in Bomi County leading to Sumodi town deep in the Gola forest she kept asking me to show her those natural reserves with wildlife that she read about and some of the tourist attractions in Western Liberia?
She actually deeply interested in visiting some of those historical sites and taking pictures of them within the Monrovia metropolis! That again was very much embarrassing in that Liberia's executive mansion home of the Presidency one of the oldest in Africa is a no go area to less about the Capitol and the judiciary building to take pictures of them!
Driving her around the what we referred to as the city center of Monrovia the capital, those places including the old executive mansion, where the Presidency used to be is now occupied by the General Auditing Commission (GAC), the courtyard that had a botanical garden with animals structures on them is occupied by the housing bank for decades now with nothing done for occupancy!
More discouragingly, the burial site of one of Liberia's long-serving President Williams V.S. Tubman is laying at a place where any Tong, Dick and Harris go there to take pictures with no tour guard leading them to explain its importance and of course no entry fee payable at the entrance of the courtyard of the Executive pavilion!
The top of the city center precisely Ducor hotel area where monument of Liberia's historical pass is engraved is a scene of young people including students, wedding couples converging daily to take pictures with a structure that once houses this beautiful five-star hotel attracting millionaire, tourists and vacationers from around the World! Yet this is where human feces smell all around there and the much talked about Liberia's forgotten generation that fought the fourteen years senseless wars sitting in waiting to rob would be victims!
What actually sung my heart when she asked me of this famous provident island where the peace treaties between the Natives sand the settlers was signed to allow the settlers to disembark from their ship under the historic cotton tree that resembles an office is been under-utilized by the Tourism sector of the Information Ministry as I write!
I was spelled bound, and went out of words to actually explain to this daughter of an African slave who was tracing her roots in spending thousands of dollars to see Liberia she believed to play a pivotal role in what is known today as Jamaica and all of these black inhabited islands from the Caribbean leading to Northern America!
After the Liberian family and guest ended their visit to Liberia with a stopover in Accra, I was shocked when she sends me email about what she saw and having a real African vacation as was her thought of enjoying Liberia in Ghana rather! She told me that when they got to the Almena castle in Cape Coast where the slave trade massively took place each of them pays US $ 150.00 for escortion a day!
They stay out in Accra up to 11PM-12 AM daily enjoying the nightlife with absolute no harassments of any kind from anyone until they departed for America few weeks ago!
Tourism, is a big time business that requires the government of Liberia utmost attention if this economy must grow in term of job provisions for especially the less busy youthful community that all striving to be politician from the slump communities!
What, that matter the more for Liberia now is that the tourism department of the Ministry of Information must be removed and made an autonomous body of her own because it is the million dollars business that could take Liberia out of her nightmare of financial quaremare!
Joe Noutoua Wandah is a Liberian broadcast Journalist, columnist, writer and provides media consultancies. And can be reached at +231776590725/+231886224134 E-mail: [email protected]