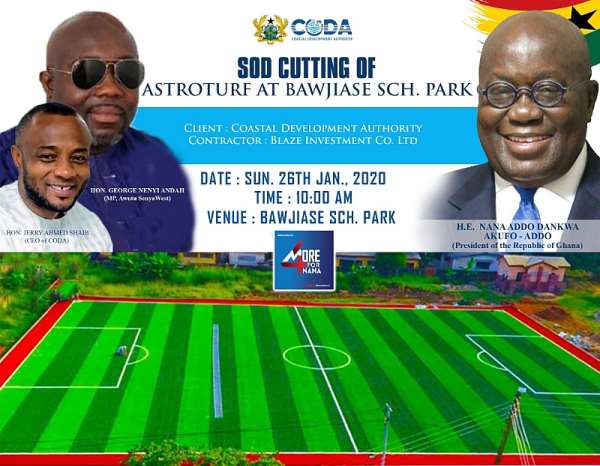 I deem it politically prudent to caution poor-performing Members of Parliament, to abstain from coverting Nana's glory as they go for the upcoming New Patriotic Party (NPP) parliamentary primaries.
As the NPP prepare themselves for their parliamentary primaries in constituencies with seating MPs, I have observed that some Members of Parliament have nothing to tell their delegates as their achievements. As a result of this, they are citing school feeding programme, free SHS and central government projects as their projects. In the case of Awutu Senya West Constituency, the seating Member of Parliament, Hon. Nenyi George Andah has come out with a poster which contains Nana and himself with an architectural work of an astroturf, the Nana Addo led administration is about to construct under his One Million dollar per constituency project.
I see this attitude and or strategy of these poor performing MPs as ignorant move to deny the president of his glory which will go against the party in this year's election. Nana promised us that he would allocate One million dollars each for unique projects in every constituency so if we sit aloof and allow these so-called strategists to claim the glory, the constituents of such constituencies will still demand their share when the president goes to then to canvass for votes. It is against this backdrop that I am doing this article to condemn this poor attitude of these MPs.
In any case, some Members of Parliament have been able to construct as much as 15 classroom blocks with their common fund. A typical example is the Sefwi Wiawso MP, Hon. Dr. Kwaku Afriyie. This is a clear indication that if these MPs who are now trying to deny Nana of his glory could have done better if they had goodwill.
It is unfortunate to observe that in my constituency, Awutu Senya West, you cannot see any tangible project that is made possible as a result of prudent use of the common fund. This is irritating since the seating Member of Parliament belongs to the ruling government and can easily access his common fund if he needs it for such projects.
If after failing the constituents in this regard, the only way left for them is to identify themselves with Nana's projects for primaries, then we are endangering their seats. In order not to risk such seats, we have no option than to open up to everyone, especially the delegates they want to deceive.
To worsen the situation, such MPs also have serious issues with regards to their relationship with party people. All these boil down to the fact that they must be benched through the primaries lest their faces on the ballot papers create problems for even their presidential candidate.
Before I conclude, I will plead with Mr. Sammy Awuku the National Organizer of the party to add his voice to this issue by openly condemning it. Nana's projects are for all and every NPP member should be able to take pride in it. It is not only for self-seeking MPs who only know what they used their common fund for. If they know they are the reason why the primaries were delayed and yet they have nothing to show, they should just bow out.