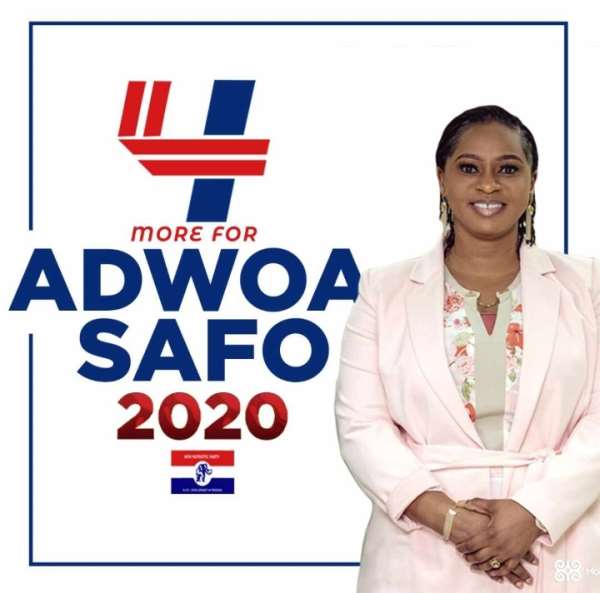 As part of efforts at retaining the Member of Parliament (MP) for Dome Kwabenya Constituency, Sarah Adwoa Safo in office for another term, some 500 Polling Station Executives and 10 Coordinators have declared their intention pick pick nomination forms for her in the upcoming parliamentary primaries.
According to the Polling Station Executives and Coordinators, their action is premised on the unprecedented developments the MP has championed under her tenure since 2012.
In an exclusive interview with Modern Ghana, a Polling Station Executive, Kwabena Asare said "We believe in Hon. Adwoa Safo and re-electing her will push her to continue with more developmental projects for the Constituency."
Mr. Asare added that Hon Adwoa Safo's influence within the Constituency is unlimited and unmatched as constituents with different political persuasions have vowed to vote for her come election 2020.
He added that the Polling Station Executives and Coordinators seem overwhelmed at how a sitting Member of Parliament is receiving such magnitude of support as she goes for a third term.
"Although a few people still believe and expect much more from her, they feel supporting her for another term will see her completing projects which have already started and even more," he mentioned.
There also seems to be a groundswell of support for the candidature of the sitting Honorable Member of Parliament with a favourable outcome, as a casual discussion with a few taxi and trotro drivers in the constituency also showed an appreciable level of support for her candidature.
Kwasi, a taxi driver at the Atomic Roundabout Station said "for Adwoa, we all support her. When I pick passengers and I take them around, I see all the roads being done so I know that she is doing very well and working hard for our Constituency. I don't think NPP have to change her."
Hon. Adwoa Safo has distinguished herself as one of the few female MP's championing the course of her constituency and has been instrumental in providing Educational and Job opportunities, Infrastructural Development and Youth and Women empowerment amongst several other interventions.
The group added that Hon Adwoa Safo in 2012 when first presented as an MP, increased the party's votes from 35000 to 63,373 while in 2016, the numbers rose again to 65,488 making her one of the few political aspirants to increase her votes in her second term.
The group believes nothing will stop them from retaining Hon. Adwoa Safo as the Member of Parliament (MP) for the next four years.