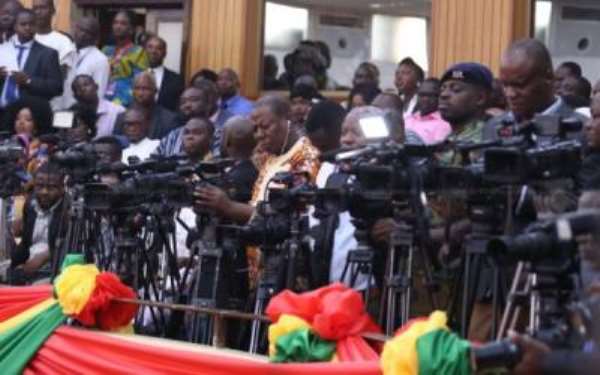 We may all agree that we are more likely to quote our sources of information from news sources than other reference materials. This therefore makes the media such a powerful institution of every nation. In recognition of its force, it is referred to as the fourth estate or fourth power of nations. Indeed, Ghana's media has grown from stage to stage, but in this globally competitive world, and the struggle for world power and prestige, the media cannot afford to do what it always does and expect to get the expected results in caparison with global media.
We may all agree to the fact that the media in Ghana has been very vibrant over social issues than ever before. Making a comparative analysis of the media in Ghana to other media in the global market, we could tell that the media in Ghana is still making steps, whereas the media in other jurisdictions are running a race. Why do I make such assertion? The answer is simple; The media in Ghana continues to feed its consumers the same "diet" on daily basis, without recourse to the changing media dynamics on the global scene.
A day in the media never goes by without coming across such news item as armed robbery, road accident, health, government and politics, sports, entertainment, editorials, and foreign news. These are ritualistic. The rapid advancement in the works of media in the international space, is yet to trickle down to Ghana. This is because the extent of creativity that needs to be seen in our media and art of journalism is lacking. Edem Djokotoe in his article "Three Ways to Improve Your Reporting on Development" confirms that such news that covers government announcement of infrastructure development-roads, bridges, do not necessarily improve the lives of the people but there should be more to these stories. Yes! media consumers have every right to obtain information about criminal activities, road accidents, health problems, government and politics, and so much more, but if these are not linked to the speedily transformation of the nation and in the lives of the people, of what essence is news?
What more, information disseminated by the media on daily basis, in the form of news in most instances invites despair and incites hopelessness than brings hope to its consumers. I woke up one early morning and came to see mum in the hall with a morose face. I asked her why that look and she narrated that she just heard the news of an accident that has led to the loss of lives of people. Such news is worthy of being told, because it will draw the attention of relatives of potential victims to start seeking information about their people on various journeys. On the other hand, is that not creating panic as well? However, the question is what other news inspires hope? A whole day never goes by without the media giving 95 percent of bad news. If not about accident and armed robbery, then it will be about corruption. To climax the day with the worst news is funeral announcements.
The media in Ghana is losing it. I came across a news article a month ago on The Independent which discussed issues about the next stage of development of the world. This article discussed the emergence of the age of Artificial Intelligence (AI) and discussed how AI's may affect interpersonal relationships, businesses, media, government, security issues, amongst others. Bloomberg News provides, on regular basis, news on entrepreneurship, business breakthroughs, better ways of investing both for individuals, startups and bigger organizations, general economic and business related news across the globe. The Wall Street Journal continues to provide information about multinational businesses that are making it on Wall Street, not just to inform people but also to encourage people and other organizations to put measures in place to move at the same pace. The Wall Street Journal provides regular updates on changing business trends in the foreign markets, securities, and general development news. ScienceDaily provide adequate information on how to access quality health care using our phones and other common IT tools, and other science related news. All of these goes a long way to bring about the development we see in America and other parts of Europe. Nothing magical about that, it is all in the works of the media. This does not mean other nations do not encounter social challenges. They do, but they choose what inspires hope, not despair.
However, in Ghana, the media serves as the platform that amplifies information- such as leaked sexual related videos, examples are "Kitchen Stool", Tiffany's sex video with ex-lover, and quiet recently, "Kan Dapaah's" Pajamas scandal- that generally destroys people, ridicule the nation and has no bearing on the country's growth. The media in Ghana promotes funny things- music, arts, videos and set agendas on them, at the expense of issues of national development. Do we remember what became News worthy on the 8th of February, 2018, between Akufo Addo's State of the Nation Address and the death of Ebony reigns?
How far have we come as a "vibrant" media in Ghana? During my attachment in one of the leading State-Owned media houses in Ghana, one very respected media practitioner gave me a very succinct advice. In short, he advised me to tap my creative abilities to come up with something new rather than just going about reporting what we call "news". He classified the act of accepting invitations and covering normal daily stories, which we call news, as commentaries, advertisements, announcements and PR. As the days go by, I have come to accept this as an evidential fact. Of what essence is reporting about donations done by organizations and other individuals, if not for image enhancement? Of what essence is reporting news on governments commissioning and launch of projects if not for campaign. What is news about these?
In an article titled "Feeding On Crumbs-The Sad Case of Our Local Radios", Major Kofi Baah-Bentum (Rtd.) asserts of our media that "Not only have we failed to put the radio stations in check but perhaps our airwaves is even more Catastrophic. To the extent that a high percentage of programmes on our media have no bearing on our developmental aspirations, and most often, can be classified as outright garbage". I totally agree with this assertion. The rate at which the media in Ghana provides information that actually educates is non-existence, if not rare.
One major issue to address is the choice of news stories for our major news headlines. In every first year Media Studies class, students are taught the element of news, that is, things that makes a news story stand out. Amongst these includes, prominence, oddity, negativity, novelty, impact or consequence, proximity, relevance, and a few others. In our part of the world, it appears the focus is more on the negativities and prominence than the relevance. Today, if we should count the number of news reported in the various media: print, broadcast and online media, there is a higher likelihood of news on negativity and prominence dominating, than any of the elements of news. Thanks to the media, Ghana's rank on corruption as rated by Transparency International has never taken a dive, because the media in Ghana speaks so much of corruption than the development the nation undergoes. If current research has proven that news on negativities and prominent people are worthy for our social-economic development as a nation, then I suggest text books for teaching Media Studies be revised to capture only such elements.
To worsen the case further, the Ghanaian media is subtly telling its consumers to throw away their culture to adopt a more Asiatic, and European culture through telenovela's, which the media presumes provides better lessons to our social-cultural lives. One can't stop laughing at how these Asian characters are able to speak our local languages with such adroitness which they manifest in proverbs and wise sayings. Going through my sister's gallery just a few days ago, I came across an engagement (Traditional marriage) video and I found it difficult differentiating what I was seeing on the phone from a wedding ceremony I viewed in one of those Asiatic telenovela's. So, what is happening in Ghana is that the media is gradually teaching us to forego our Ghanaian culture, whiles they subtly promote the cultures of other nations in Ghana. Increased rate of teenage pregnancy, STI's, high rate of divorce cases, and the general degeneration of the current generation can in one or more ways be traced to the adoption of foreign cultures as our new normal. Hypocritically and funny enough, the same media will launch campaigns tomorrow to promote "Made in Ghana" goods.
Moreover, have you noticed the spate of advertisements run in these telenovela's? That raises a serious question even on the ethics of media practice, that is commercialization of the media. Anyways, that won't be discussed here, because "Who are you to question how we make our money to pay our staffs?". The funniest part of it all is the media spaces given to money ritualists and crooks who portray themselves as herbalists to advertise on the airwaves. Do we agree to the idea that adherence to the ethics of media practice does not "cough" money for media house management and thus should not be followed? Must we breach the ethics of a profession to make a few cash, irrespective of the harm it may cause to society? To answer this question Professor Michael J. Sandel of Harvard University advises consumers and gives them reason on "Why we shouldn't trust the market with our civic life". This can be accessed on YouTube.
In all, the problems of our media is not a lack of creativity or expertise. The problem is basically misplaced priorities and the share disregard for the right way to act. This is because the media space has become competitive now than ever, and going by the ordinary ethical ways means being left behind in the race for wealth and prestige. We can't continue to trade social values for money, neither can we substitute professionalism for class and prestige and higher ratings. The Ghana Journalist Association (GJA) must begin to revise their criteria for awarding Journalists and media houses in Ghana. Every year, Media houses receive awards for their works, yet the nation doesn't benefit much from those works.
The media institutions in Ghana must begin to strategies themselves in order to live up to their own visions statements, missions and objectives. Professionalism means professionalism. Students of the media must be taught to internalize media ethics not as a course that needs to be passed only, but as a way of life. The media has a role in building a positive image about the nation, building strong institutions, creating awareness, informing people about global trends and how education can be strategized to meet the global market. The media has a role in projecting an economic-friendly environment that will favor foreign investment and more into the country. When these and many others are done by the media, it won't only feed its consumers with repetitive content in different styles, but will have a wide array of better contents that will scale up with dynamics of the global frontiers, and create a favorable image about the nation, and enhance the nations development.
Author: Michael Ofori
( [email protected] )