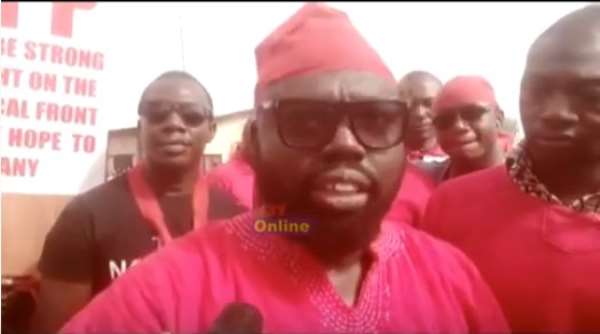 Deputy General Secretary of NDC, Peter Boamah Otokunor, was at the Tikusayi demo.
Police in the Ashanti Region have said they will provide adequate security for Tuesday's scheduled demonstration by the Inter-Party Resistance Against a New Voters' Register (IPRNA).
"The Police Command will ensure that the routes agreed on for the event are secured and Law and Order maintained throughout the entire period," police said in a press release issued on Monday.
The demonstration in Kumasi, the Ashanti Region regional capital, is part of a series of planned nationwide demonstrations against the Electoral Commission's decision to compile a new voters' register for the December 7, 2020 presidential and parliamentary elections.
Two weeks ago, the IPRNA, led by the opposition National Democratic Congress (NDC), embarked on a mammoth demonstration in the Northern Region to protest the EC's decision.
The IPRNA says there is no need for a new electoral roll and biometric system for the general elections, but the EC insists it will go ahead to acquire a new system because the current biometric system is obsolete. The EC says the current system may crash during its use on December 7.
The 'Tikusayi' demonstration held in Tamale was the first of the nationwide demonstration.
In the press release, police also said the event is scheduled to begin from the Aboabo School Park through to Asawase Police Station to Asare Original Pay All Office, through to the Central Mosque then continue to Asanteman Senior High School. Then to the Kumasi Zoo Traffic Light through Pampaso to Wesley Methodist Roundabout to Pioneer Office, Melcom Traffic Light to Aseda House.
Read the full statement by the police below.

---Myjoyonline.com