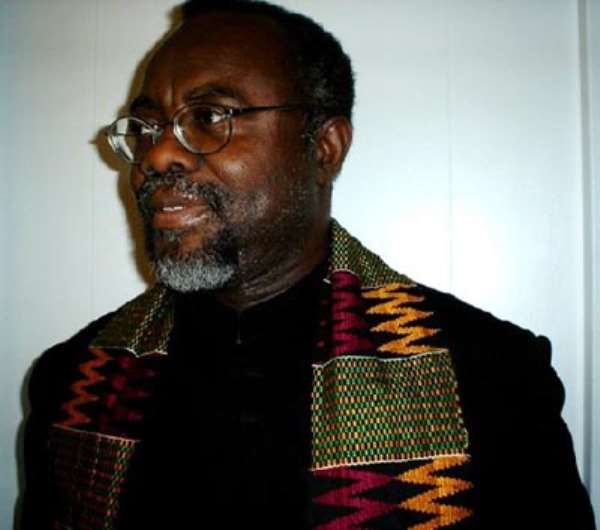 Kwame Okoampa-Ahoofe, Jr., Ph.D.
If you are familiar with Akan maxims and proverbs, you might have already heard the words that make up the caption of this column, which, by the way, only constitute the dependent-clause fragment of the fuller version of the maxim or proverb in reference, which runs as follows: "If a naked man promises you a pair of pants, you just listen to his name." I first heard this proverb used by the senior one of my two Housemasters at the Akuapem-Akropong Salem or the Presbyterian Middle Boys' Boarding School in the early 1970s. The original version, or at least one of them, runs as follows: "If Mr Naked promises you a bolt/piece of cloth, just listen to his name." The name of that Housemaster was Mr Owusu-Antwi; I had known him well before he graduated from the Akuapem-Akropong Presbyterian Teachers' Training College (PTC) and was hired or appointed to teach at Salem. I had done part of my first grade and my entire second grade of schooling in Mr. Owusu-Antwi's hometown of Akyem-Kankang in the mid-1960s. Today, Kankang has been renamed Akyem-Sekyere.
Mr. Owusu-Antwi, whose first name I cannot readily recall but must very likely have sounded like "Godfried," was much older than I was. His generation was positioned somewhere between my own generation and that of my mother, who has been deceased for a little over two decades now. Had she lived longer than her 63 years on this Earth, the old lady would be pushing closely towards 86 years old in May of this year. So, I guess Mr. Owusu-Antwi, who married Maame Yaa Alice Awusi, would be verging closely on 70 years old or even slightly older. Now, I mention the name of his wife Yaa Awusi because it was from her grandmother that my mother, then a pupil teacher, rented our chamber-and-hall residence. As I vividly recall, Yaa Awusi was a very quiet and calm and extremely modest and respectful young woman. When I was in the second grade, Maame Yaa, as she was known and affectionately called by most of our neighbors, must have been either in the 7th or 8th grade at the Akyem-Sekyere Presbyterian Middle Day School. She was also known to be a sprinter. Jet-black and pretty and skinny. Svelte. I think that is the word for her kind of graceful skinniness.
Her grandmother, Ade, was neighbors with Maame Koobi, Mr. Owusu-Antwi's grandmother, so it did not come off to me as entirely surprising that the pair would conjugally unite sometime in the near future. Even at my very tender age, it was strikingly obvious to me that the future couple were strikingly of the same feathers, as the old maxim went.
Anyway, in his latest electioneering campaign scam, Candidate John Dramani Mahama, who has been fiercely and very publicly and haughtily discrediting and maligning President Addo Dankwa Akufo-Addo's landmark fee-free Senior High School Policy Initiative, as one that was not financially sustainable and practically unsound and a cheap populist policy initiative and a ploy solely aimed attracting votes in the 2020 Presidential Election, but was certain to fail miserably and contribute to the precipitous lowering of academic standards in the country, now says that in the highly unlikely event of him being returned to the Presidency, he would establish a fee-free Technical and Vocational Educational Institutions (TVET) in every one of the newly Akufo-Addo-created six additional regions in the country (See "Mahama Promises Free Technical and Vocational Education" News Desk – Modernghana.com 1/17/20).
He is not telling Ghanaian voters and citizens where the money for his proposed copycat project will come from, except to predictably let on the fact that many of the people to whom he addressed his latest patent package of lies and absurdities seemed to like this "most innovative" idea. "To be clear, students of technical and vocational education at the secondary and tertiary levels will pay no fees." Of course, it is very unlikely that the overwhelming majority of those who heard the former President so outrageously and shamelessly insult their intelligence in broad daylight were actually laughing with him and the patent absurdity of this electioneering campaign promise; chances are that they were laughing at him. But, of course, so politically desperate and power-drunk is this pathological megalomaniac, who is also clearly out of touch with the practical reality on the ground, that Mr. Mahama would not have been able to tell the difference between "laughing at" and "laughing with."
You see, Brothers and Sisters, this shameless political scam-artist who callously supervised the effective collapse of the National Health Insurance Scheme (NHIS), may have just learned about the mouth-watering deal which the Akufo-Addo Administration, more than ably represented by Vice-President Mahamudu Bawumia, recently signed with the Chinese government, to the decent tune of $130 Million (USD), that is aimed at upgrading the country's Polytechnical and Vocational institutes, and obviously thinks that he can hoodwink Ghanaian voters into allowing him to take over this "loot" in the offing, so he could ravenously divvy it up, Woyome style, with his double-salary drawing cabinet appointees, you know, the Iddrisus, Jinapors, Mogtaris and the Ayarigas of the SADA Looting Brigade. Once again, we say, Fat Chance!
By Kwame Okoampa-Ahoofe, Jr., PhD
English Department, SUNY-Nassau
Garden City, New York
January 18, 2020
E-mail: [email protected]
*Visit my blog at: kwameokoampaahoofe.wordpress.com Ghanaffairs