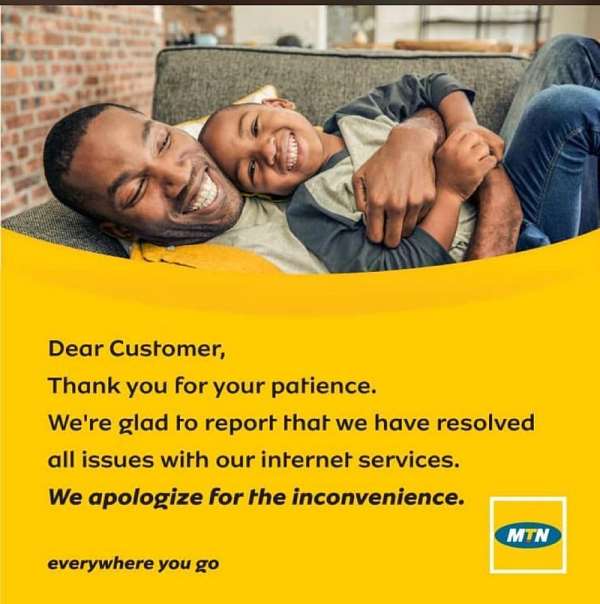 On 16th January at about 7.00 pm, I realized that my Internet was insensitive as it had always been. I began to wonder whether it was the usual behaviour of our Android Operating Systems where the applications freeze up until the mobile device is restarted.
I then restarted my phone on two occasions but the Internet was still not functioning. The next thought was to recheck and be sure that the data bundle I had just bought was not exhausted but lo, it was intact.
" What could be the cause of this rare Internet failure? " wildly, I reasoned but a proper solution wasn't realized. I began to imagine the pale reality of my night that day. You know, it's impossible for me to go through one night without surfing the net. WhatsApp, Facebook, Google account and the others are inevitable recipes for my night so the absence of my MTN Internet made feel I have been stabbed in the dark.
Whilst wandering for about 30 minutes into my forecasted nightmare, I saw my WhatsApp messages dropping in tots and bits. "Gosh!" I exclaimed helplessly but suddenly, I received a Short Message Service (SMS) that read, "Y'ello, MTN sincerely apologizes for the disruption you are experiencing with our data services and international outbound calls. This is as a result of a submarine fibre cut. Our engineers are working to resolve the challenge. We regret the inconvenience caused. Thank you."
This is where I became comforted and commiserated with the African network giant [MTN]. In fact, I have been a customer of MTN for the previous ten (10) years and I am personally convinced that MTN is the best network provider relative to the others. The internet speed of the MTN network is without a doubt, the fastest. Again, MTN data no longer expires after the recent contentions raised by the Ministry of Communication.
It must also be made clear that MTN is the most reliable network when it comes to the provision of help services such as itemized bills, Mobile Money (MOMO) accounts, general assistance, prompt delivery and provision of information to customers and security agencies especially when there is a change in service, a systemic interruption or when it is a necessity to solve crimes.
Furthermore, until I am proven otherwise, MTN has the widest network coverage in Ghana. I travel a lot and there are some cottages where MTN still has a network for communication when the other networks I use appear "no signal." I shall not surely end this opinion piece without acknowledging the receptivity of MTN customer service officers.
The truth is that they are very firm but extremely nice without any reference to a gender group. So for me, MTN cannot be trolled. It rather has an infrequent and a genuine Internet challenge for which all customers must understand.
Indeed, MTN dey bee kɛkɛ!
MTN is very revered.