Ghana International Airline in Turmoil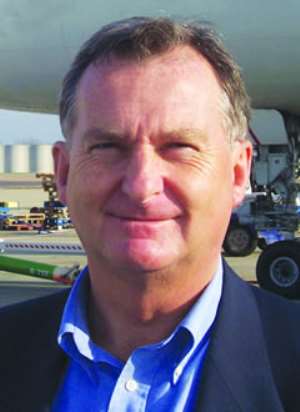 Accra, April 7, Joy Online -- There was confusion at the offices of Ghana International Airlines when officials believed to be from the castle attempted to lock out the Chief Executive Officer Brian Presbury(pictured) in what appears to be disagreements over who controls the national carrier.
The Silver Star offices of the airline were besieged by a large crowd in the ensuing melee until Police personnel subsequently brought the situation under control.
Sources close to GIA say a meeting between Directors of the Airline and some government officials at the Castle yesterday ended abruptly when the Chief of Staff, Kwadjo Mpianim allegedly fired the Chief Executive Officer of GIA, Brian Presbury.
The sources say some gentlemen purporting to be security operatives from the Castle later arrived at the offices of the airline to lock out the Chief Executive Officer Mr. Presbury.
Subsequently another group of gentlemen believed to be loyal to the Vice President of GIA in charge of operations, Sam Crabbe arrived at the premises of the airline apparently to resist the attempted lock out of the CEO.
A large crowd gathered at the forecourt in the midst of the confusion. Police officers were quickly dispatched to maintain sanity at the premises.
Officials from the US consulate later arrived at the premises for a meeting with the Directors of the airline.
The US officials later drove off with Mr. Presbury and other officials of the Airline.
Attempts to reach Mr. Mpianim for his version of the story have proved futile. The confusion however did not affect the scheduled flight of the airline last night.