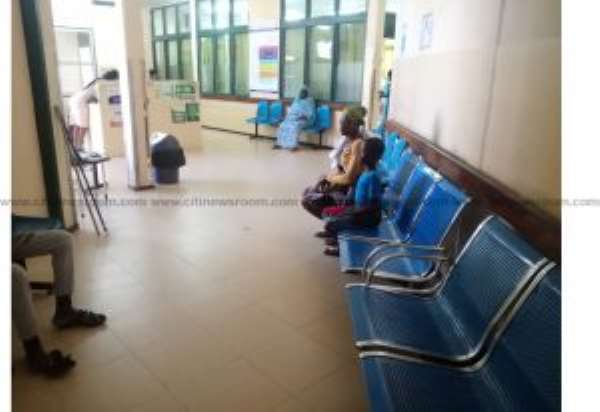 Mrs Victoria Adu, the Birim Central Municipal Chief Executive (MCE) has led the Health Committee of the Assembly to pay a working visit to the Oda Government Hospital to interact with the hospital staff and some patients at the hospital.
The committee inspected the various female ward, male ward, units, sections and departments of the hospital to find out the major problems hindering the work of each ward and department among others.
At all the sections, units and department the committee visited, the staff complained bitterly about the staff strength of the hospital and called on government through the Ministry of Health as the matter of urgency provides the hospital with Medical Doctors, Nurses, radiographers, radiologists, cardiologists, laboratory staff and other health professionals to beef up the staff strength.
They however stressed that the laboratory equipment are capital intensive and called on government, civil society organizations and philanthropists to come to aid of the hospital to make the staff deliver their core mandates effectively to enure the benefit of all citizens irrespective of their colour, religion, ethnicity and political affiliation.
In an exclusive interview, the administrator of the hospital, Mr. Kwame Ampadu Agyei said the Oda government hospital serves the residents in the Municipality including four other districts namely; the Asene Manso Akroso District, Birim South District, Achiase District and Akyemansa District. He described the hospital as a preferred choice for many patients since it is the only referral Centre in the vicinity.
On indicators to assess the performance of the hospital, Mr Ampadu Agyei mentioned the number of hours patients spend at the Out Patient's Department (OPD) and emphasized that the hospital works for twenty-four hours without break, adding that when the OPD is properly restructured, it helps the Medical Doctors and other health professionals to work effectively.
Mr. Ampadu Agyei indicated that Management uses Hospital's Internally Generated Funds (IGF) on infrastructural works, purchase of oxygen, payment of bills and casual workers.
He complained that the hospital's IGF is woefully inadequate to meet the hospital's expenditure and urged government through the National Health Insurance Scheme Secretariat to pay all arrears owned to the hospital so as to improve the operations and activities of the hospital.
On strategies to improve service delivery, Mr.Ampadu Agyei said management has been able to put measures in place to combat Maternal Mortality and also helped to embark on infrastructural projects to reduce infrastructural deficits confronting the hospital.
Mrs Victoria Adu, the (MCE) for Birim Central who is the chairperson of the Committee said quality healthcare delivery is a matter of concerned to government and however hinted government through Birim Central Municipal Assembly will do all it could to provide the necessary logistics and some tools for the hospital to enhance the work of the health professionals to ensure patients acquire the needed the treatments.