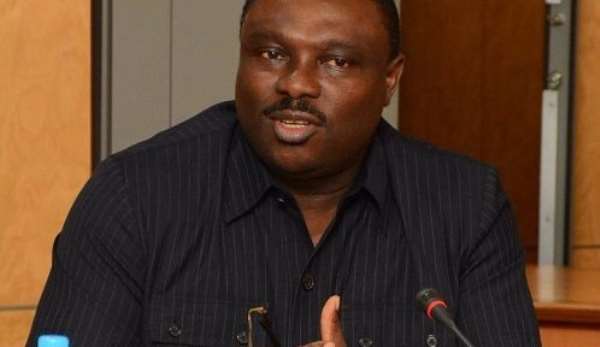 Citizens Leader, Kumawu.
We have read with disdain an article purported to have been penned by a certain Rockson Adofo (a person of some criminal record) who does not hail from Kumawu or any of its adjoining communities, knows nothing about the history of Kumawu and currently residing in the Netherlands, trying to discredit the background and the hometown of the deputy minister of trade and industry, Hon Ahomka-Lindsay.
The article and its contents is seen by we the citizens of the Kumawu Constituency as an affront to our knowledge of our identity and history and a disrespect to the royal leadership of all communities in the Constituency.
It is highly anticipated that the said article is influenced by our do-nothing incumbent who has no single developmental initiative to point to after eight(8) years in parliament and/or some tainted characters seeking to put themselves forward for the position of an MP.
Inasmuch as the said piece is a total fabrication and a figment of the writer's imagination to malign Ahomka-Lindsay as an indigene of the Constituency(from Aninanya), we the citizens will treat it with the contempt it deserves.
The writer went on the tangent of insults and maligning instead of researching to present facts.
This writer does not come from and knows nothing about Kumawu but
As indigenes who are very conversant with our history in the Ashanti Kingdom, we will simply set the records straight.
1. Ahomka is a true indigene of the Constituency. In fact he is a royal from the Aninanya community in the Constituency. His mother is from the royal family of that community. All true Ashanti's are very much aware they operate the maternal system of inheritance and that even though Ahomka's father is Fante, Ahomka cannot hold himself as such but to acknowledge his true hometown Aninagya. It is not surprising to note that the stooge seeking to malign Ahomka did not get his facts right before scripting. The people of Kumawu are of high integrity and he should lift the discourse when coming back.
2.Rockson in his myopic understanding of issues, in his write up misrepresented facts about a land owned by Ahomka-Lindsay regarding the time and purpose of acquisition in the Constituency.
Straight facts: The land is a piece of land bought by the honorable minister over twenty five years ago solely for the purposes of farming. It has been used for palm and cashew farming for all these years. It is currently under reconstruction and preparation for the new season. ( It is close to this piece Ahomka has acquired a single acre to build his house. All are owned by him with documents available.)
More than 100people have been employed and given livelihood through this initiative. Now let the writer tell us what his incumbent has done in this direction with physical evidence.
3. Ahomka has always come back to help the Constituency anytime he came to Ghana during his days as the Vice President of Coca Cola Africa and his work related tour of the world. In Fact, Ahomka is the one that commissioned the now Sekyere Kumawu District over some ten years ago. How could a foreigner do this?. Let's elevate the discourse, Rockson.
4. Ahomka is never a stranger. But assuming we take the Hon Krobo Edusei's instance for example, it is only Ahomka that has shown ability to fit into that shoes and even do more. Ahomka even not as an MP has done what the incompetent incumbent 'Napoleo' dcouldn't do. Ahomka has single handedly begun over twenty community projects. These include logistical support for Senior High Schools, importation of massive hospital equipment to support the hospital and other health centres in the Constituency, 1D1F, partnership with YEA and Forestry Commission to employ the youth of the Constituency, Construction of Community Library to promote reading and learning, the Sekyere Kumawu Association support fund (ghc100000), loan schemes, just to mention but a few.
The incumbent should point to one single project after eight years- prof do-nothing. We are well aware that he has over the years received economic support from Ahomka and should be grateful to him rather than attack under disguise.
It's clearly evident that Ahomka is a man the Constituency needs and not what the self agrandising writer who's supporting professor do- nothing sought to do.
Ahomka will do more if he contests and win as an MP. We will urge him to, if he hasn't considered yet.
4. Some of us have had personal interactions with the Hon Ahomka, and as far as we are concerned, he is a very humble, affable and peaceful politician who will bring unity and development to the Kumawu Constituency. He is extremely better than the disrespectful and divisive do-nothing incumbent. We the citizens want Ahomka.
5. It is said in our local parlance that "wontumi wone3ma a, wose wokahyire ny3" to wit, you resort to fault finding and blame games if you fail at your work.
The incumbent MP who Rockson sought to project is a total failure and an embodiment of the word failure itself. He's had a two term opportunity to help develop and change the fortunes of the Kumawu Constituency. But what can we point to today after eight years in power, Nothing!. Nothing to speak of apart from divide and rule tactics. He fights everyone with potential to grow. He disrespects the chieftency of the Constituency and fights the DCE. Unfortunately as a former DCE himself it was expected that he would forge good relations with his current DCE to ensure development. What do we see, we see a failed MP who keeps fighting his DCE and chiefs.
How do you expect growth with such an attitude. His only resort now is to shift blame and this is what he purportedly has contracted his writer to do. It's a shame.
We the people of Kumawu cannot countenance this anymore, and so this is a great opportunity to call on Kumawu Constituency NPP delegates to bring us a new face.
It is time for a positive change!
It is time for development!
It is time for Peace and Unity!
It is time for Kumawu Constituency!
Kumawu must rise again!!!
We will by this scripture call on the Honorable Ahomka-Lindsay that if he hasn't considered contesting for primaries yet, he should consider it now!!!. We have seen the developmental projects you are bringing to all communities in the Constituency and we are clamouring for you to be our MP, Hon Ahomka-Lindsay.
2020: Ahomka must come.
Thank you.
Signed:
Citizens Leader, Kumawu Constituency, Kumawu.