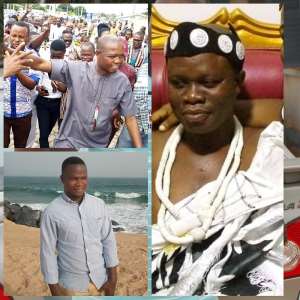 The vibrant newly elected Assembly Member for Xavi electoral area, Hon.Shine Foster Agorsor , has promised to operate an open-door working relationship with all manner of people as far as the development of his electoral area hence the Constituency is concerned.
he added that, he is a young and energetic guy who is ready to use his office to help everyone most especially the timing youths in the Xavi electoral area with the little opportunity that will come his way.
Speaking to a cheering gathering of well-wishers and the media yesterday in Akatsi where he said he would engage more with his good people, NGO'S, philanthropists, the Member of Parliament, Hon. Bernard Ahiafor, The DCE, Hon. Leo Nelson Adzidogah, devoid of political colourization, to find solutions to the problems that affect his electoral area in the past.
"I will open my arms and my doors to everyone in the area. I am just going to be like a father and it will be unfair to not involve everyone. Ghana is for all of us so let us be open to everyone". he entreated.
he expressed his appreciation for the warm reception he received and assured the electorates of his readiness to embrace its people and called on District Chief Executive, the hard-working Member of Parliament for the Constituency, Hon. Bernard Ahiafor and other stakeholders to come together in unison for the purpose of propelling the development of his electoral area.
Thanking the people of Xavi, Horti and it's surrounding Communities for believing and giving him an opportunity to represent them in the Assembly. Shine Forster Agorsor said the position comes with a lot of responsibility and he will need the support of all to deliver as he has been tasked by his chief, Torbui Tete Gefu Ladzekpo (IV) Dufia of Horti in the Akatsi South Constituency of the Volta Region.