Humanitarian Awards Ghana Opens Nominations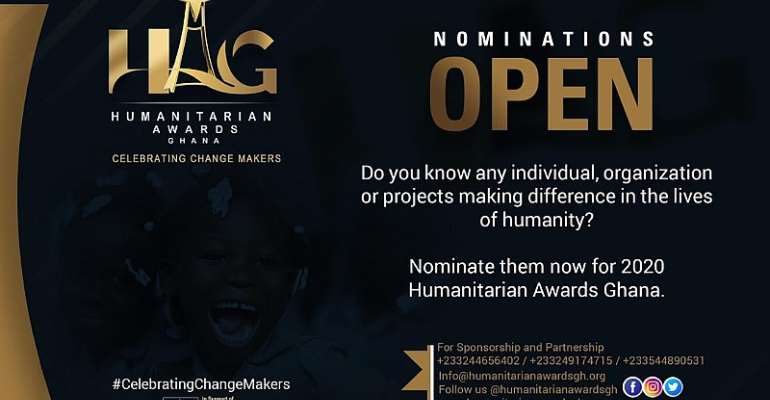 Nominations for the first-ever "Humanitarian Awards Ghana" have opened in Accra. The awards which will be held this year 2020, on the theme " Celebrating Change Makers" recognize volunteer leaders, donors, organizations, philanthropist, corporations and professionals in advancing the important work of charities each day.
We honor and celebrate the incredible contributions of time, resources, leadership and financial support made by organizations and individuals who inspire generosity and giving.
In a bid to recognizing and celebrating Ghanaian and world humanitarians who without capes have changed and are still changing the communities and impacting lives and environment.
Today it is your time to be celebrated as you deserve the honor.
The award will honor 50 most celebrated and recognized volunteer leaders, donors, organizations, philanthropists, corporations, and professionals in advancing the important work of charity day.
Nominations for this year's awards can be found on the awards website: www.humanitarianawardsgh.org
Nominate yourself or someone whose work needs recognition.
visit humanitarian Awards Ghana on all social media handles.
We speak your name!
We speak your name!
We speak your name!
Nominations Guidelines
1. Nominees or companies must have worked or volunteered for a charity within the borders of Ghana, Africa and the world at some time in the year from January to December 2019.
2. Nominations are invited from voluntary and community sector organizations and members of the public.
3. One winner will be selected from each award category but all nominees will be recognized.
4. Nominations details including nominations information may be used in publicity including photographs, media, and/or articles for promotional purposes.
5. The committee reserves the right not to award prizes in any category if they consider nominations to be unsuitable.
6. If a nomination is for a volunteer who is under 18 years old their parents or guardian must give their permission
7. For each company entry should be accompanied by a write up of not more than 1700 words excluding attachment, profiles of the company and brochures, media
8. Winner will receive a plaque and certificate. There is no cash or alternative award available in whole or in part