C1.3 trillion voted for youth employment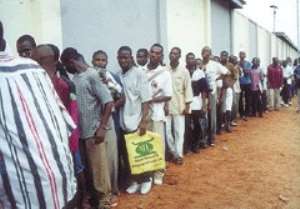 Akropong (Ash), April 6, GNA - The government has voted 1.3 trillion cedis to support the Youth Employment Programme to assist the unemployed youth acquired employable skills to enable them live decently.
Dr Kwame Addo-Kufuor, Minister of Defence, who announced this, said products from the junior secondary schools who are not able to continue their education to the senior secondary schools, would be given employable skills under the government's "New Apprenticeship Scheme". He was speaking at the People's Forum held at Akropong in the Atwima-Nwabiagya district of Ashanti on Wednesday.
Dr Addo-Kufuor, who is the Member of Parliament (MP) for Manhyia, said the sound economic measures of the government has enabled the government to benefit from four billion-dollar debt relief package by World Bank member-nations.
Ghana, he said, is rated as the most peaceful country in the West African sub-region and noted that it has been consistently contributing to the maintenance of peace in some parts of the world.
Dr Addo-Kufuor said major renovation and expansion programmes have been undertaken at the country's two teaching hospitals in Kumasi and Accra and facilities at the 37 Military Hospital adequately improved to offer quality health care delivery to the citizenry.
Mr Thomas Ofori-Donkor, the District Chief Executive, said the assembly would put up four basic school blocks at Abira, Adagya, Barekese and Esaso to absorb extra pupils who were admitted this year as a result of the government's fee-free education programme.
The DCE commended the self-help spirit of the people, which he said, has tremendously improved the social and economic environment in the various communities.