Financial Resolutions For 2020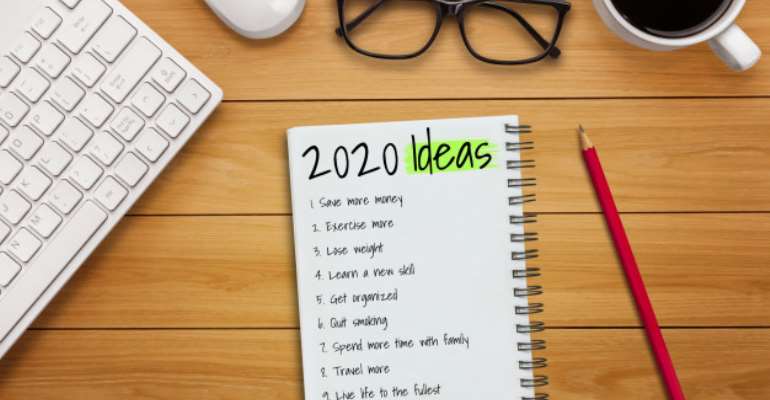 Happy New Year to all followers and readers of my weekly financial epistles.
I humbly welcome you all to another year of financial learning with a smorgasbord of different educative topics.
It is always important to start a new year with some specific goals and resolutions that will become a guide of life throughout the whole year.
These resolutions set the tone for things to come and expect every month.
The saying goes that an unexamined life is not worth living. This statement is also true in the financial discipline space.
Based on the above, I want to set a very good financial education tone with four resolutions that I think will help everyone in our quest to attain financial freedom and independence.
Perhaps, there were financial goals that you set for 2019 which could not be achieved.
Never lose hope as 2020 offers another opportunity to hit vertiginous heights.
I will analyze four financial resolutions worthy of implementing this year
PERSONAL SAVINGS PLAN
The first resolution we need to make in the year 2020 is to have a personal savings plan.
Savings from my perspective is "ones disposable income that is not consumed by immediately buying goods and services".
Saving can also be defined as deferred enjoyment of your income.
In our everyday language, savings are the money you have plans for and decide not to use it for anything today.
Cultivating a saving culture is does not start and end in a day.
It is a process that goes hand in hand with a specific plan.
Your savings should have a specific goal such as to further your education, buy a new car, planning towards your retirement to mention a few.
With this purpose clearly outlined, one can then start putting in place action points.
To be honest with you, every genuine saving starts with a bank account.
No one can efficiently claim to save without a bank account where either daily, weekly or monthly income can be kept.
With the avenue for saving clearly spelled out, the next question then becomes how much we have to save in the year 2020.
In my little experience as a savings tutor, I can confidently say that we need to save at least 10% of our monthly income depending on your focus and status.
Your status in life and focus should determine how much money you might want to save this year.
Your status here may either be single, married, having children, nearing retirement, etc.
Every status above comes with its own challenges and opportunities.
A married man with children will have more financial obligations on the face value that a fresh graduate who has just been employed.
Whereas the married man may want to stick by the 10% savings plan, the graduate who may be living with his parent can stretch himself to say 40%.
This is what I mean by status.
The focus, on the other hand, has to do with the purpose of the savings. Saving without a purpose is like fasting without prayer for the religious man!
What you are focusing on should determine how much you may decide to save. If your focus is to save towards your wedding in the next two years, then clearly, you will know how much you need to start saving now.
If your focus is to start a professional course or Masters's program, then again, you will know how much you will need to start saving.
In that sense, the tentative 10% may or may not work for you.
The bottom line, however, is that you should commit to a plan which is consistent with your income and lifestyle.
Your saving plan should determine your lifestyle and not the other way round.
Financial discipline is key if you have to stick by this personal savings plan.
There are two main types of financial discipline driving tools.
The first driving tool is a financial coach. We all need financial coaches as a matter of urgency to whip us in line this year.
A financial coach will help you in tracking your monetary progress in the year.
Just like the doctor, a financial coach will help in diagnosing your weaknesses and prescribe solutions.
Patrick TV GH is one great financial coaching platform.
The second tool is automated banking instructions i.e. standing order. Standing orders help release stress for manually controlling how much you want to save every month.
For a proper savings plan, maintain a bank account, which should be distinct from your main income account.
At the end of the moment, a standing order will "sweep" your savings margin from the main account to this savings account at a different bank.
Depending on the status and focus for the year, you can invest every fund that hit your savings account in fixed deposits, treasury bills, commercial notes, etc.
These short-term money market instruments can yield interest on your savings while you await the actualization of your purpose.
Review your savings plan regularly in the year based on changing trends and focus.
You do not need to harbor any fear about locked-up funds after the Central Bank's financial sector clean up last year.
Be rest assured you will have access to your savings with any of the remaining financial institutions in Ghana.
I will use this opportunity to appeal to all those who had funds locked up at some Savings and Loans and Microfinance companies to exercise patience.
There is light at the end of the tunnel.
If life offers another opportunity, I will return next week with the second financial resolution for 2020.
I wish everyone a wonderful and memorable week!
Gratis!!!
My Profile
Patrick Baah Abankwa is a chartered banker with over 6 years experience in main stream banking having worked in various capacities. He is currently at the Branch Manager Position of his institution.
He has been a qualified member of the Chartered Institute of Bankers, Ghana with a good membership standing since the year 2013.
He also holds EMBA and BA from Kwame Nkrumah University of Science, Technology, and the University of Ghana respectively.
Patrick is the originator of the daily epistle dubbed "Savings Tip of the Day" which has been running for over a year on WhatsApp and Facebook.
Patrick has also been teaching on the Topics Savings, Investment and Financial Independence for over 2 years and a research fellow for ILAPI Ghana. He runs a financial channel on Youtube by name "Patrick TV Gh" and has appeared a couple of times on the business segment of TV3 News 360.
Patrick is into youth facilitation and counselling. He can be contacted via [email protected] and or 0243984492.
Follow Patrick on the various platforms for more education:
Facebook: www.facebook.com/PatrickTVGh/
Instagram: @PatrickTVGH