Integrity-Steeped Database A Must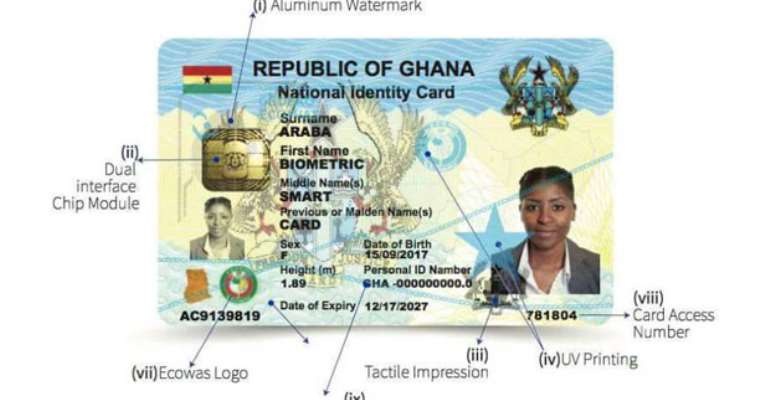 The importance of data gathering and storage has never been more critical in the country. Today, the subject of digitization has been given a big push as Vice-President Mahamudu Bawumia embarks upon a campaign to reduce the human interface in public institutions. Of course, that is a sure way of reducing the incidence of corruption.
The ongoing capture of the data of the citizens of this country by the National Identification Authority (NIA) towards the issuance of Ghana Card is inching towards its March deadline.
Important state assignments such as this must be time-bound. This gives it the sense of urgency required to push those assigned the task to do even more.
President Akufo-Addo's call on the NIA last week to ensure that they meet the March deadline is definitely in order.
For the first time in the annals of this country, we are getting closer to having a national database of citizens which would leverage national development in myriads ways.
This is a decade of data and indeed digitization. Crime management, electoral roll management and development are but some of the areas the country stands to gain when a credible database is created.
Acquiring such a database is one thing and ensuring its integrity constitutes a different thing entirely.
Ghana is today embroiled in a net of political cacophony as some politicians try futilely to stop the process of compiling an up-to-date voters' register. These are persons who are neither interested in data management nor its integrity and would rather antiquated makeshift register of names of persons lacking in integrity are presented as voters' register. The reason for the disagreement is not far-fetched. While some politicians stand to gain from a flawed voters' register and would prefer maintaining the status quo, their counterparts on the other side of the aisle obsessed with a credible database periodically updated demand the compilation of a replacement.
The latter, of course, are database cherishers who appreciate its roll in such critical subjects as election management.
The work of the NIA is as crucial and data driven as the Electoral Commission's (EC). Both are charged with ensuring that veracity cuts across their assignments in the area database management.
A database full of discrepancies and untruths such as the capture of foreigners' data and treating them as citizens would definitely affect the purpose for which the data is gathered and stored. Development would be impacted negatively and veracious outcome of elections impossible to come by the fallouts from which are too palpable to be elaborated here.