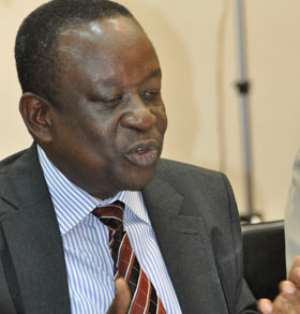 On the whole, Kan Dapaah's national security gaffe – the man is still curiously in a funk of denial – painfully caught me off-guard (for there is some relationship here that closely verges on familial kinship), but I still believe that the gentleman ought to promptly do the right thing, as would be done in any civilized constitutional democracy, by tendering his resignation to President Addo Dankwa Akufo-Addo. You see, former President John Agyekum-Kufuor may have religiously nurtured and baptized corruption, which he so righteously claimed dated from the time of Adam and Eve. But it is equally righteous for Nana Akufo-Addo not to keep blindly recruiting Mr. Kufuor's corrupt appointees into his cabinet. I also make the foregoing observation fully knowing the daze I went through when the long-trusted Akufo-Addo Presidential Campaign Manager, Mr. Boakye Agyarko, who had been named Nana Akufo-Addo's first Energy Minister, was forced to either tender his resignation or be expelled from the Akufo-Addo cabinet. I had also fiercely defended the man when he was brought up on charges of bribery during his confirmation hearings by some National Democratic Congress' Parliamentary Minority Representatives.
Some of our readers may not be aware of this, but I had briefly crossed swords with Mr. Boakye Agyarko on a matter pertaining to internal party political affairs that had prompted the future Energy Minister to publish an article on Ghanaweb.com calling the sanity of yours truly into question. Nevertheless, I still continued to admire the man for his unstinted loyalty towards the future President Akufo-Addo at a time when many of his own political associates and ideological fellow truckers had pronounced him clinically braindead. Until this former New York City banker literally went overboard in the delicate albeit equally scandalous matter of the re-negotiation of the Kwabena Donkor-bungled AMERI energy deal. But today, in this column, I am not particularly concerned with or about how Nana Akufo-Addo chooses to handle the videotaped scandal involving Mr. Albert Kan Dapaah, the embattled National Security Minister, and a young Canadian-resident Ghanaian-born woman called Ms. Chantelle Kujawu, in what clearly appeared to be an inexcusably compromising situation that went viral on the Internet.
Yes, I am not any particularly concerned because how he chooses to handle the Dapaah Affair is the exclusive judgment call of the substantive President of the Sovereign Democratic Republic of Ghana and the Commander-in-Chief of the Ghana Armed Forces (GAF). What I am presently concerned with here is the abject and rancid hypocrisy of those who have been virulently decrying what they claim to be the flagrantly and objectionably lukewarm manner in which the former Attorney-General and Justice Minister has been handling the mountainous backlog of corruption-related cases largely stemming from the previous Mills-Mahama regime of the National Democratic Congress. Now, some self-righteous critics would have the President privately summon Mr. Dapaah to the sanctum of the Presidency, pat the self-disgraced man on the back, offer this "koteboto" boy kudos or congratulations, and then present the former Interior and Defense Minister with a diamond-gilt plaque reading "WELLDONE, KENNY-BOY, YOU HAVE REALLY DONE GHANA PROUD!" Fat chance!
You see, I am not the least bit perturbed by such crass, nepotistic and shameless exhibition of hypocrisy because I am also very familiar with that globally renowned Akan-Ghanaian proverb or maxim which says that: "Whenever you point an accusing forefinger at another, you had better watch the other three fingers directly pointing at you, the accuser." It well appears that these self-righteous critics firmly think and believe that the only crime of any legal and/or judicial validity is one that was committed by operatives of the previous Mills-Mahama regime of the National Democratic Congress. In this particular instance, our wishy-washy critic would have his readers believe that Mr. Dapaah had only been caught in precisely the sort of "Travel-and-See" love affair which the kinsmen and women of the critic grew up fervidly aspiring to be caught up in themselves.
That the National Security Minister is a long-married man with a faithful and loving and respectable wife, does not seem to count for even a grain of wheat – my profound apologies to Kenya's Prof. Ngugi wa Thiong'O – in the moral compass of the critic, that is, if he happens to have any. This is the main and major problem with us, Ghanaians. Our political pundits and critics often tend to be far more corrupt – we falsely showcase this aspect of our temperaments as "compassion" – than the politicians we would have our readers and audiences perceive and believe to be the most pathologically corrupt politicians anywhere around the globe.
By Kwame Okoampa-Ahoofe, Jr., PhD
English Department, SUNY-Nassau
Garden City, New York
January 14, 2020
E-mail: [email protected]
*Visit my blog at: kwameokoampaahoofe.wordpress.com Ghanaffairs