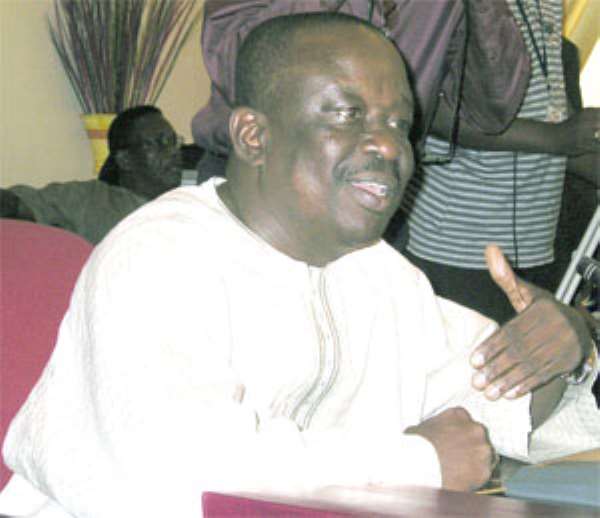 Albert Kan Dapaah
I just finished reading Abdul Hayi Moomen's defense or apology on damage-control behalf of the National Security Minister, Albert Kan Dapaah (See "Abdul Hayi Moomen Writes: Kan Dapaah Video and the Morality Gods" Ghanaweb.com 1/13/20), and could not immediately help but wonder whether this otherwise fine writer and generously native-wisdom-imbued man had bothered to read the rejoining statement released to the media by the National Security Minister which is making the rounds on social media, in which Mr. Dapaah, who claims to have been completely oblivious of the viral circulation of the videoclip in which this key cabinet appointee of the Akufo-Addo-led government of the New Patriotic Party (NPP) is seen to not only being recklessly and scandalously compromising in his personal morals as a mature adult man with a wife and adult children, but also making a complete fool of himself like a two-year-old toddler engaged in a flirtatious and prurient conversation with his mother.
Very likely, Mr. Moomen's apology was written and published a bit longer before the aforementioned Kan Dapaah release was made public. I ask the preceding, largely rhetorical, question because it is equally foolish and ethically compromising, if not downright lunatic, for anybody to so spiritedly attempt to put up a fight or defense for a very prominent and powerful politician who adamantly insists, against common sense and the patently obvious, that he has committed absolutely no offense or even a blunder for which he either needs to render an unqualified public apology, let alone be prevailed upon to resign. Well, if Mr. Moomen happens not to have come across the nauseatingly self-righteous and self-congratulatory rebuttal by the National Security Minister, then maybe he would be better off having the present writer quote for his enlightenment the most relevant portions of the five-paragraph release dispatched to him by a good friend and a quite notable radio-broadcast journalist based in Atlanta, Georgia, via Whatsapp tonight, Sunday, January 12, 2020.
The Dapaah rebuttal is tersely titled "Statement" and reads, in parts, as follows: "My attention has been drawn to a video circulating on social media purported to be a recorded conversation of myself and a friend. ¶ The said conversation is first of all, part of a broader series of conversations in an effort to uncover persons behind attempts to gather material which could be used to compromise key personalities. Security sector persons routinely employ various methods[,] including baits[,] to uncover cells. This conversation is one such effort."
Well, there is a serious problem right here and one that is typical of many a prominent Ghanaian politician caught flatfooted or with his pants down, literally speaking, like a gazelle or an antelope caught by the intense headlights of a vehicle on the highway. And it is for Mr. Dapaah to first fiercely and vehemently deny that the charge or offense being made against him is patently false and therefore deserves to be promptly regarded with utmost contempt. And then when this stock line of self-defense clearly does not seem to work, turn around and quickly claim, after all, that the very glaring evidence which has been promptly and roundly rejected as false has been mischievously "doctored to achieve a false impression of untoward conduct" on the part of the subject of scrutiny."
Interestingly and quite significantly, the National Security Minister also claims that the very "doctored" videoclip "purporting to be a recorded conversation" between a friend and himself, is also "part of a broader series of conversations [held] in an effort to uncover persons behind attempts to gather material which could be used to compromise key personalities," presumably in government. In other words, what many of us, Ghanaians, both at home and abroad, witnessed on the videoclip was actually part of a sting operation deliberately set up by the National Security Minister himself and some of the security personnel who work for him and under him.
If so, then Mr. Dapaah needs to explain to the rest of us, Ghanaian citizens and his paymasters and mistresses and his audience, whether the videoclip in question was actually released by operatives of the National Security Agency (NSA), rather than Ms. Chantelle Kujawu, who has been picture-identified as the woman who is heard on the videoclip giving military-drill-like instructions to an obviously infatuated, addlebrained or drunk-sounding Mr. Dapaah. The next most logical follow-up question then becomes: Does Ms. Kujawu work for our National Security Agency? And if so, in what capacity? He also claims that "Thankfully, an operation related to this matter was successful in retrieving the original edited versions of some of the materials" relating to the aforesaid Dapaah-Kujawu videoclip.
So, the clear suggestion or implication here is that the general Ghanaian public ought to expect to be shown the original videoclip in which Mr. Dapaah actually snags a criminally minded Ms. Kujawu and, in effect, makes Ghana much safer than it could otherwise have been, that is, if criminally minded reprobates like Ms. Kujawu were permitted to freely roam our streets and alleyways. Ultimately, even as Abdul Hayi Moomen so brilliantly argues in his apologetic article, subtitled "Kan Dapaah Video and the Morality Gods," absolutely none of us critics of the National Security Minister is/are without blemish and can therefore be able to comfortably, pontifically and imperiously stake any authentic claim to moral superiority over Mr. Dapaah.
But, of course, it equally goes without saying that being National Security Minister is absolutely no job or portfolio for ordinary humans like the rest of us. Mr. Dapaah's job comes with great responsibilities and above-average level or caliber of personal discipline and moral standards. Which ought to inform "Morality Omnipotents" or Supergods like Mr. Abdul Hayi Moomen that this is precisely why far lesser gods like the rest of us political nobodies have so quickly jumped onto the case of Mr. Kan Dapaah.
By Kwame Okoampa-Ahoofe, Jr., PhD
English Department, SUNY-Nassau
Garden City, New York
January 13, 2020
E-mail: [email protected]
*Visit my blog at: kwameokoampaahoofe.wordpress.com Ghanaffairs