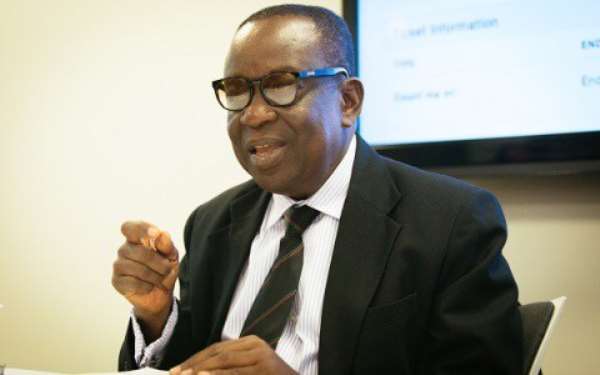 Mr. Albert Kan Dapaah
Ever since the National Security Minister, Mr. Albert Kan Dapaah, was widely fingered – no pun intended here, by the way, Dear Reader – for having manhandled or caused to be brutally manhandled an editor and a reporter of the popular media website Modernghana.com, I have been having my own reservations about the temperament and the soundness of the judgment of the 66-year-old locally renowned Chartered Accountant. I have had questions about the soundness of his judgment because although the kind of defamatory publication, or publications, over which Mr. Dapaah was alleged to have sicced some National Security Agency (NSA) operatives on the two journalists also called the judgment of the victims, or at least the judgment of the deputy editor who actually caused those defamatory articles to be published, as I shortly came to understand it, into question, for the defamatory article or articles involved were found to lack adequate basis of evidentiary support to have been rushed to the press, nevertheless, as the National Security Minister of a fledgling albeit quite robust constitutional democracy like Fourth-Republican Ghana, rather than a veritable police state like the erstwhile Jerry John Rawlings-led junta of the Provisional National Defense council (PNDC), and to a relatively lesser extent the two-term Rawlings-led elected government of the National Democratic Congress (NDC), demanded a remarkable modicum of restraint on the part of a man charged with such a highly sensitive portfolio and his public-purse salaried minions and assigns.
More so, when it was increasingly becoming clear that both the obvious main political opponents and the not-so-obvious internal detractors of President Addo Dankwa Akufo-Addo were vigilantly on the lookout for mud with which to thoroughly and irreparably smear the person of Nana Akufo-Addo and the latter's otherwise globally respected and enviable human rights record. At any rate, our concern with the preceding matter inheres in the fact that the Modern Ghana-NSA to-do does not appear to have been tactfully resolved, as far as the government's relationship with public perception is concerned; for instance, the Minister never showed up at any press conference to smoothen matters up and calm raw nerves; nor did Mr. Dapaah ever officially inform the general public of any specific disciplinary measures that had been promptly and justifiably exacted on the culprits or those found to have been responsible for the alleged detention and torture of the two media operatives, although we must also quickly point out that one of the alleged victims had capriciously recanted shortly after acknowledging to a Modern Ghana attorney and before personnel of the Legon Police Station that he had, indeed, been equally assaulted like his boss. As already noted at the beginning of this column, I have, personally, not felt at ease over how this matter was eventually resolved, that is, if it was eventually resolved at all.
And now, here we are, once again, confronted with perhaps an even more internationally scandalous contretemps than the preceding one, in the form of a videotaped lewd conversation in which Mr. Dapaah is alleged to be apparently caught off-guard compromising his personal ethics with a paramour, the sting or undercover operative, while the Security Minister was reportedly on an official assignment outside the country recently (See "Kan Dapaah Caught Lovey-Doveying on Duty with Woman Who Isn't His Wife" Ghanaweb.com 1/12/20). But what is most disturbing about this entire episode is an opinion piece purporting to be doing damage control on behalf of the Security Minister, in which the writer, a Lebanese-Ghanaian, rather curiously and outrageously claims that "99% of men in Ghana have concubines and girlfriends that they care for much better than their own wives" (See "Kan Dapaah and Others Are Targets of Mafia Prostitutes" Ghanaweb.com 1/12/20).
The preceding, of course, makes Mr. Dapaah one of the 99-percent of Ghanaian men who love their wives far less than their girlfriends and concubines, and therefore spend most of their wealth and income on these girlfriends and concubines than on their own wives, children and families at large. Now, our beef or grievance here is that this brazen apologist for the patent moral indiscretion of the National Security Minister does not give us, his readers, any scientific or objective basis regarding how he arrived at the statistical conclusion or "evidence" that, indeed, 99-percent of all Ghanaian men are so conjugally reckless and irresponsible as to pay more attention to and spend more of their personal wealth and fiscal resources on their girlfriends and concubines than they do on/with their own families.
You see, Dear Reader, this is pretty much like yours truly claiming that all Lebanese men have a soft spot for engaging in barbaric acts of terrorism; or, better yet, the overwhelming majority of married Lebanese-Arab men are bisexual, without sensibly or intelligently providing you, the reader, with any forensically provable evidence to back up such decidedly scandalous observation or claim. Have Ghanaians and Africans become so morally and culturally cheap, depraved and worthless in such a way that our very humanity is being envisaged or perceived and judged by just about any Mohammed or Ali who comes into contact with us or lives among us to be fundamentally one that verges on the pathologically bestial in one form or another? My profound apologies go to the late Dr. Edward Said, the Palestinian-born former Columbia University, New York, Professor of English and Comparative Literature and author of the classic critique of European colonial imperialism and racism "Orientalism."
You see, in reality, the "Dapaah Apologist" was not really defending the embattled National Security Minister at all; rather, what the writer was simply saying was that the personal ethics or morality of Ghanaian men, by and large, leaves so much to be desired that the videotaped compromising behavior of Mr. Dapaah is decidedly pedestrian and all-too-familiarly Ghanaian to be perceived in any other way. No such assertion could be more blasphemously heretical, morally genocidal and downright insufferable.
By Kwame Okoampa-Ahoofe, Jr., PhD
English Department, SUNY-Nassau
Garden City, New York
January 12, 2020
E-mail: [email protected]
*Visit my blog at: kwameokoampaahoofe.wordpress.com Ghanaffairs