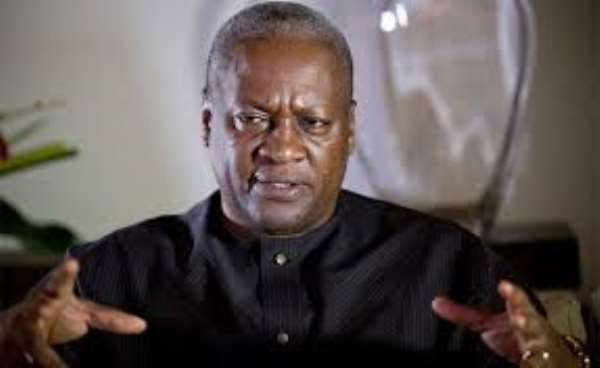 Admittedly, there are many, many things in this world that require higher-level research work, critical thinking skills, more patience, hard work, strategic planning, and the like to figure out. But certainly, rejecting or voting massively against ex-President John Mahama in the upcoming general elections in December this year, does not or should not require the mind of a rocket scientist to make that choice.
Making a choice as a rational Ghanaian voter, concerning whether or not former President Mahama should be given another chance at the country's presidency is a no-brainer, because the NDC's presidential aspirant's past inefficient leadership is well documented. Indeed, this same question above was irrefutably answered or settled by Ghanaian electorate through the ballot box in December 2016; so, it is mind-boggling that a good number of people in this country still allow themselves to be manipulated by Mr. Mahama and his vociferous pack as if they're newly-minted political team brimming with fresh management ideas to solve all the country's problems. Ex-President Mahama is a joke!
If many Ghanaians were to embrace the cold truth at this point, a large number of us most likely will wake up to the reality that former President Mahama is a spent force regarding Ghana's top job he so enviously seeks to occupy one more time. Evidently, the NDC's flag bearer is a smooth talker, who knows how to tap into, and exploitatively speaks to the frustrations and economic anxieties of millions of amnesiac and impatient Ghanaians. In the course of his "I-can-do-better-than-anyone-else" campaigns, hardly do many of us hear Mr. Mahama honestly admitting to Ghanaians that his then NDC government played consequential role in bringing the nation's economy to its knees, a phenomenon for which Ghana is still dealing with its adverse ripple effects today.
And please, let's cut off the puny reasoning that it is not necessary or disingenuous to talk about the poor performance of the previous NDC government led by Mr. JD Mahama. The striking reality here is that none of us as normal-thinking human beings can successfully dismiss an intrinsic human element of comparison or making associations with past or present events. Indeed, understanding one's past, greatly helps to guide or shape one's present and by extension, one's future.
Also, significant to note is that JDM is intensely making every effort to come back to power. On that basis alone, Ghanaians, including the current government have every right to expose the abysmal record of former President Mahama's NDC administration. Based on his terrible track record when he was in the nation's political saddles, it makes some of us unsettled to find out many Ghanaians are still entertaining the notion of Mahama's "third" presidency. Honestly, no matter the extent of Ghanaians' present socioeconomic uneasiness, drawing the contrast between Nana Akufo-Addo's decisive leadership so far, and Mr. John Mahama's remarkable ineptitude management style when in power, is a no-brainer endeavor.
On top of the foregoing, are some more puzzling questions we need to reflect on; and that is to say: for all this matchless mismanagement of the Ghanaian economy under Mr. John Mahama's NDC, one wonders what exactly does he want at the country's presidency again? Better yet, why do many Ghanaians appear to be "warming up" to get hooked onto the ex-president's bait of psychological manipulations? Discerning Ghanaians should know by now that Mr. Mahama has no achievable vision nor any creative ideas for this country, should he become president again to have the opportunity to execute his pretentious, grand, messianic ambitions to "save" Ghana from the economic inferno his then regime ignited before Ghanaians booted it out from power.
As Mr. Sekou Nkrumah—President Nkrumah's son—rightly but ominously reminded the forgetful Ghanaians recently, "it is not like we don't know what [John Mahama] can do? We know exactly how he performed as a leader, he brought nothing new to the table, and it was business as usually! I believe this is a deadly recipe for disaster in a developing country as ours." According to Sekou Nkrumah, "Former President Mahama who is seeking re-election does not deserve any shot at the presidency in that because his thinking is not futuristic."
For Mr. Sekou Nkrumah, what the 20th century Ghana really needs "is a dynamic leadership with the capacity to build…not talking about the so called infrastructure the NDC touts as Mahama's legacy! I am talking about building a future with a mindset of 2020 not 1920!" (See: Ghanaweb.com, Jan. 9, 2020). If Sekou Nkrumah, indeed, made the above damning but genuine assessments of ex-President Mahama, who claims to be a lifetime adherent of the late President Nkrumah's (Sekou's father) ideology, then some of us need to rest our case about JDM's pretenses in that we have been vindicated. Obviously, faithful Nkrumaists know ex-President Mahama is not even a true social democrat in the practical sense.
In the face of this overwhelming record of past inept leadership, it is inexplicable watching and listening to some Ghanaians (media not excluded) naively attempting to make lame excuses for ex-President Mahama's return to power so he can redeem himself of his past "mistakes" as if Ghana's presidency is a place for try and error experimentation. After heading the NDC government's economic team; serving as vice president under the late President Atta Mills; and eventually becoming president of the republic of Ghana, why should any reasonable-minded Ghanaian doubts or finds it difficult to understand that ex-President John D. Mahama just wants to grab back political power to enable him rehash his same old, same old ideas? Permanently retiring Mr. Mahama from the country's presidency in December 2020 elections, is a no-brainer, folks!
Bernard Asubonteng is a US-based writer and a political science lecturer at a college.