Fetish priest appeals to AG's Department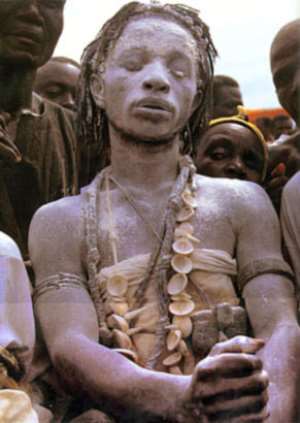 Asona(E/R), April 05, GNA - A fetish priest of the "Tigare" shrine at Asona, near Nkawkaw, Nana Kwasi Wiredu, has appealed to the Attorney General's Department to expedite action on a docket involving five suspects who allegedly kidnapped a deaf and dumb girl from the shrine and attempted to kill her about six years ago.
Nana Wiredu who made the appeal through the Ghana News Agency at Asona, on Tuesday, recalled that sometime in May 2000, five men led by one Kofi Agyei, came to his shrine early in the morning and kidnapped the girl who was receiving treatment and dragged her into a nearby bush. He mentioned the other suspects as Yaw Boateng, Kofi Donkor, Kwame Ofori and one Bossman.
Nana Wiredu said the girl was, however, saved by some by people who saw and chased the men to the spot where they found the hands and legs of the girl tied with ropes and knife wounds on her neck. He said the suspects were later arrested and appeared before the Nkawkaw District Court that granted them bail and the docket sent to the Attorney General's Department for advice but nothing had been heard about the case.
When the GNA contacted the Nkawkaw police, they confirmed the story and said without the docket they could not prosecute the case.