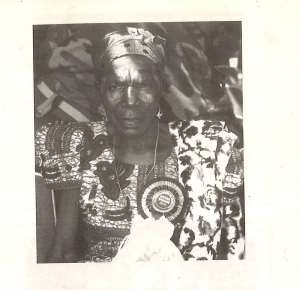 In 2003, most Ghanaians were astonishingly happy when it was announced that Madam Theresah Ameyo Adotey who hailed from Mepe in the Volta Region District of North Tongu was adjudged the second national best fisherman. At the time she won the awards, the late Madam Ameyo Adotey was 72 years and she was a resident of Kotoso in the Kwahu East District of the Eastern Region.
In recognition of Madam Theresah Ameyo Adotey's fishing efforts to feed the nation from her small corner at Kotoso, she was rewarded with a fishing boat, an outboard motor and fishing nets. The erstwhile Vice President of Ghana, the late Alhaji Aliu Mahama, presented the awards to Madam Theresah Ameyo Adotey at the National Farmers' Day Ceremony in Cape Coast in 2003.
In that year, the National Farmers' Day Ceremony was held at the St. Augustine's College Park in Cape Coast and that was the 19th edition since Former President J.J. Rawlings initiated such an important farmers' awards scheme in 1985. The first of its kind was held at Osino in the Eastern Region.
To some minds especially at Mepe, it was not surprising that the late Madam Theresah Ameyo Adotey received the national farmers' award in the fishery category because she hailed from Mepe –Degorme which is so close to the Volta River so her fishing prowess started from her formative ages in the 1940s. In Ghana, fishing is a male dominated economic activity so for a woman to go that far with it is worthy of remembrance even after her demise.
The story was told that the late Madam Ameyo Adotey, even though a female child, was fond of following her father, Ametsie Adzorlolo Adotey of Mepe- Agudafeme on his fishing expeditions. As such, the national award winning Ameyo who was also called Norde Wofe learnt the various aspects of fishing very well hence, she deserved the awards. She was not only catching fish but also mongering fish in large quantities in various markets across the nation.
Another interesting aspect of Madam Theresah Ameyo Adotey was that she was making dugout wooden canoes and she was mending her damaged fishing nets all by herself. The ability of a woman to do this in the fishing industry of Ghana is jaw dropping because these are male dominated areas in the industry. A woman fishing on the Afram River, which is known to be full of tree stumps and hippopotamuses, might have been created from a special place in heaven and dropped on earth for a special purpose. As a determined and an innovative woman, Ameyo was into a healthy competition with her male counterparts in equal measure in the fishing industry at the time.
Sadly, it has been reported that the renowned woman who was recognised nationally in 2003 had passed to eternity on 22nd December, 2019 at the age of 88 years. To me, this was a life well lived. We hope ardently that other female figures in the fishing industry of Ghana will emulate the deeds of the late Theresah Ameyo Adotey and even excel more than she did. We equally hope avidly that the bereaved Family of Mepe- Agudamefe, Mepe-Degorme and Mepe- Akukorgorme will not hesitate to invite similar award winners and key stakeholders in the fishing industry to her funeral. This way, the nation will give her remains a befitting burial. It is good that the nation recognized her contributions with the National Farmers' Day Awards in her lifetime but not posthumously. Her going home eternally has left an admixture of feelings within the hearts of some of us who knew her worth.
Mindful of the life Madam Theresah Ameyo Adotey led on planet earth, one is convinced to be unwaveringly aligned with the trite assertion that a person's life on earth is not necessarily measured by the number of years he or she spent on earth. Rather, the quality of the life lived and the productive or positive impact it made on society.
Ameyo, Daa Wofe, Theresah, the Great Daughter of Adzorlolo Adotey and Eworm Bahu of Mepe, rest well with your maker and may your illustrious soul be comforted in the redemptive blood of Jesus. Condolences to your family in particular, the Mepe Community and Ghana at large. Should you have the reincarnation opportunity, ensure you appear in Ghana again and I am sure the people of Mepe Traditional Area would love to have you come from that part of the country again. This was an extraordinary fisherwoman, a generous mother, a fish-centred person, a determined female in a male dominated industry and a result-oriented personality. You had done your part in nation building so we say, Hede Nyuie.
~Asante Sana ~
Author: Philip Afeti Korto.
Email: [email protected]