Election 2020: Is Ex-President Mahama A Credible Alternative?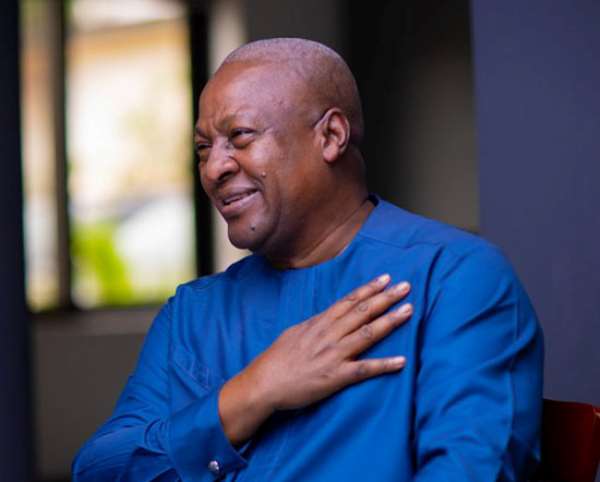 Precisely three years has elapsed since President Nana Addo Dankwa Akufo-Addo took oath to give a proper expression to the overwhelming mandate the Ghanaian electorates handed him on 7th December, 2016. Not only is it commemorating the solemn moments of the investiture of President Akuffo-Addo but it also signifies the bold resistance of Ghanaians from the mismanagement and maladministration that was brought to bear on the ordinary citizens by the John Mahama led- NDC regime.
Ghana under John Mahama was a 'hell on earth'. The ordinary citizen could easily be misidentified as a walking hardship and poverty, haplessness and despondency was almost touchable. The NDC brassbound loyalists must stop living in a denial and accept the fact that the erstwhile Mahama administration left Ghana in a serious mess.
The NDC messed up the country when the Mahama administration abysmally dragged the 14% economic growth in 2011 to a disappointing 3.4% by December 2016? The NDC cannot run away from their substandard management when Ex-President Mahama business crippling 'dumsor' went on for well over five years.
Teeming supporters of the NDC cannot convince some of us of after creating a messed Ghana when they recklessly signed superfluous Power Purchasing Agreements (PPAs)-'take it or pay-agreements', in which Ghana was, unfortunately, paying over $600 million per year for excess power we do not need? Mahama and the NDC could not have been excellent managers when they terribly collapsed the Agricultural sector by reducing the growth from 7.4% in 2012 to a miserable 2.5% by December 2016.
How can the NDC faithful beat their chest and claim former President Mahama as a viable alternative when he shrunk Ghana's GDP from $47 billion in 2011 to $40billion by December 2016? Mahama cannot claim to have the wellbeing of Ghana at heart when he shockingly decided to give away 58% of Ghana's bauxite to his sibling, Ibrahim Mahama on a silver platter.
How can Mahama convince some of us that he is the best person to mobilise our revenues when his brother, Ibrahim Mahama, evaded import tax to the tune of GH12 million? The NDC loyalists cannot convince some of us that they can efficiently look after our scarce resources when they carelessly paid a purported GH800 million dubious judgment debt, including the GH51.2 million to Woyome, $30 million to the Waterville and $325,000 to Isofoton.
How can the NDC be a good alternative when they misapplied $175 million loan facility secured in 2012 which was meant to provide seven district hospitals and misapplied on the blind side of Ghanaians?
Surely, Mahama and NDC cannot take good care of Ghana's scarce resources when over GH200 million SADA funds invested on trees burnt down and guinea fowls mysteriously flew to nearby Burkina Faso without a trace. How bizarre?
It is, indeed, quite ironic that despite all the harsh economic conditions amidst corruption allegations (Bus branding, Brazil World Cup, SADA, SUBA, GYEEDA, SSNIT, NCA, Ford Expedition Vehicle, amongst others), the NDC faithful can still go ahead to convince Ghanaians that Mr. Mahama is a sensitive choice.
How could John Mahama who carelessly misused his 4 years mandate by creating a hellish Ghana turn around in just three years to persuade us into believing that he has anything meaningful to bring on board? Given the circumstances, it would be extremely unreasonable for him and the NDC operatives to embark on that mission.
Based on the delineated facts and figures, it would be somewhat disingenuous for anybody to claim that Ex-President Mahama is a competent custodian of Ghana's economy.