Rita Sowah Fetes Physically Challenged Children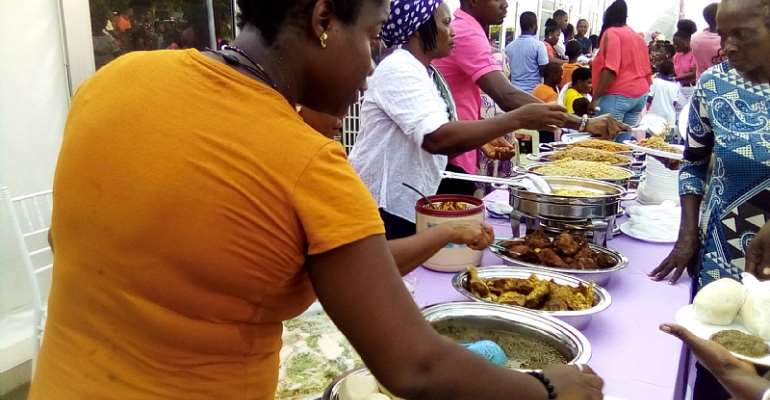 The National Democratic Congress (NDC) Parliamentary Candidate for La Dadekotopon Constituency, Rita Naa Odoley Sowah continued her kind gesture towards humanity by organising a feast for the physically challenged and children to end the year.
The event took place on December 30, 2019 at Unique Floral located at Trade Fair, Accra.
The former Municipal Chief Executive (MCE) of the La Dadekotopon Municipal Assembly (LaDMA) indicated that "This is a yearly celebration I've been organizing…I started doing this before becoming an MCE. I love children and the physically challenged because they are disabled through no fault of theirs. Most of the times some society members neglect them and I feel that we need to bring them together so that we put some smile on their faces."
She continued, "Especially with the physically challenged, it isn't only about the festivities but during the year I visit them at their meetings and whatever I have I share with them and then we make fun of ourselves which makes them excited."
She added that as children are blessings to us, she believes we need to also celebrate them especially after God has taken care of us and blessed us in various ways throughout the year; we need to share with them to make them happy.
Besides the lots of foods and drinks available at the occasion to enjoy, there were a number of textbooks and story books which were shared among the children who thronged the venue in excitement in accordance to the classes they were to ensure they cultivate the habit of reading.
Going into the 2020 elections, she appealed to her constituents to vote massively for her to win the Parliamentary seat and Ghanaians in general should vote for the NDC flag bearer, John Dramani Mahama.
She concluded that when voted into office, she will make sure a number of libraries are sited throughout her constituency to enhance education of children.
Assembly Member for New – Lakpanaa Electoral Area, LaDMA, William Mensah noted that "She started assisting the physically challenged for a very long time. When she was the MCE for LaDMA she had been disbursing her Common Fund for them peacefully and a whole lot.
She also used her own money to support some of them in their schooling and others and gave women loans to support their businesses."
He urged the electorates to campaign and to vote massively for her to become the Member of Parliament (MP) for the Constituency as she is the one who deserves to win the seat of La Dadekotopon.
The Chairman for Ghana Federation of Disability Organizations, La, Mr. Adarkwah Anthony emphasized that "It is a good initiative which is helping some of us in terms of the vulnerable in La entirety including persons with disability, homeless children, aged who have been neglected by their families and those who have nothing to eat during festive seasons like this."
She noted that "So we encourage her to continue doing this. Even though she has not won the seat, she is still doing it. We believe, hope and trust that when she comes to power she will do more and greater things than this. We pray for good health for her and all the supporting team with her."