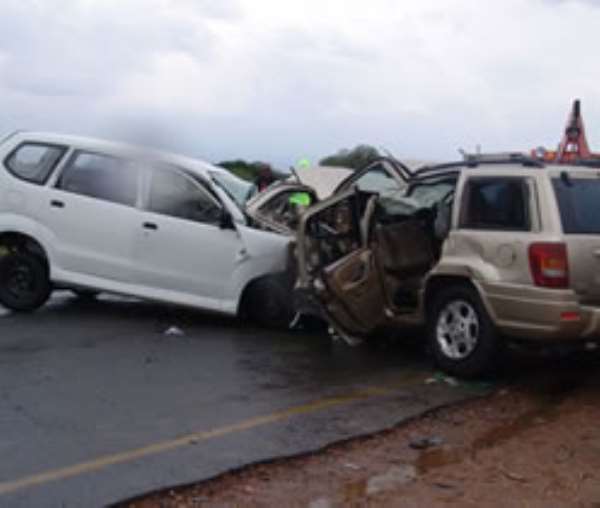 Anytime I hear statistics put out by National Road Safety Commission or Police MTTD, the question I keep asking myself is, when will the carnage on our roads reduce significantly or drastically?
It's reported that, 168 vehicular accidents occurred in 2019 during the festive season as against 144 accidents same period in 2018.
As a result, 203 people died while 31 people were injured during 2019 festive season from 24th-26th December 2019.
Similarly, 74 people reportedly died on 1 January 2020.
Between 1991 to 2018, 46,284 people were killed as a result of road crushes. Thus, in the last 27 years, an average of 1,714 people were killed on our roads through accidents.
Are most of these accidents not preventable? What are we not doing right as a country? Who will be included in the next statistics of road accidents in the country? Is Ghana doing enough to curb the annual carnage?
Something ought to be done. Don't be deceived that because YOU drive carefully on the road you're totally immune from road accidents because the other person on the opposite direction or even behind you could recklessly run into you.
Experts say that, Ghana loses $230 million dollars annually as a result of road accidents.
But I think the total cost of these road accidents are unquantifiable because one life lost alone more valuable than $230m not to talk about thousands of people perishing annually.
About two days ago, I read a story published by the Independent newspaper, a UK based newsmagazine which said that in 2019, only person died on Oslo's roads. And in the entire country thus Norway, 110 were killed in 2019 as against 108 in 2018.
Someone might say that, Norway is relatively a small country compared to Ghana, but that argument is far fetched.
There are other countries bigger than Ghana, in terms of human and vehicular population wise but with minimal cases of accidents.
Something ought to be done and done right to safeguard innocent lives (road users) in the country. The argument is not about ensuring a complete eradication which is impossible to a greater extent anyway but ensuring a greater reduction in the number of roads accidents.
May God protect our lives on the roads. Amen!
Baba Musah
[email protected]