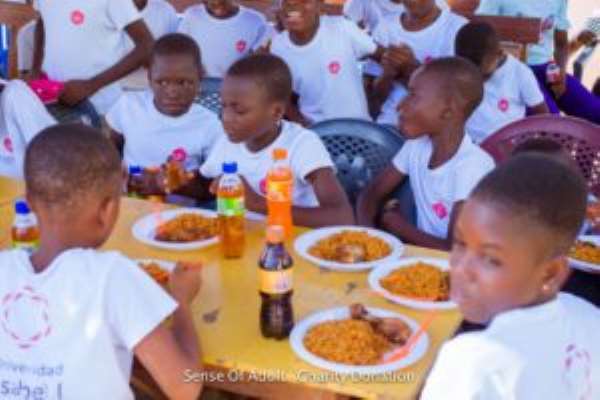 When the Sense of Adult group visited the Becky's Foundation in December 2018, they left with a promise of returning in December 2019.
In as much as the management of the home as well as the children believed this promise little did they know it was going to be a mind-blowing "year of return" by one of the leading social groups in Ghana.
On 21st of December 2019, the Founder of SOA, Madam Sabina Bentum led her members to donate a range of items that turned out to be unprecedented in the history of the orphanage.
The visibly overwhelmed children could not help but pour out their profound gratitude in many ways including presenting crafts to the SOA leadership, singing and dancing performances and an emotive prayer to God for the lives of the visitors.
Welcoming the team, Mr. Seth Asiedu, a co-founder of Becky's Foundation recalled the visitors' maiden visit and thanked them for remembering to honour their promise to return in a bigger form.
He noted that he was pleasantly surprised by the commitment and love of SOA towards the home and hoped that the friendship will be maintained and built upon in the coming years since as far as he was concerned, "nothing in the world is more fulfilling than uplifting others".
Mama Mathilda, the Administrator of the home who could not hide her excitement also added her voice to the sense of gratitude expressed by Mr. Asiedu and asked for abundant blessings for the SOA group. She informed the visitors that the children were blessed during the first visit and were looking forward to the second hence she was grateful that SOA did not disappoint them.
She particularly praised the visitors not only for their kind gesture but for the quantities of quality items they procured and donated to the home.
For her part, Madam Sabina Bentum acknowledged the effort her members put in to make the donation a possibility.
She was proud that the items were mainly procured out of contributions made by SOA members and asked for God's blessings for them. She advised the children to be God-fearing and respectful, urging them to study and work hard to achieve any goal they set for themselves.
She reminded them that with God all things were possible so they should not focus on their current predicaments but rather focus on God and believe in themselves.
In addition to children clothes SOA presented assorted items including 40 boxes crayons, 120 pieces pencil sharpeners, 2 tins jumbo large tomatoes paste, 50 pieces pens, 420 pieces books, 100 pieces rulers, 12 bottles Dettol, 6 boxes assorted biscuits, 125 pieces gem biscuits, 15 cartons soft drinks, 15 cartons bottle water, 50 bags sachet water, 2 boxes parazone, 36 pieces pads, 34 bags toilet rolls, 200 sachets detergent (omo), 10 bottles sunflower oil, 96 pieces pencils, 180 pieces erasers, 170 pieces chocolate, 120 pieces candies, 120 pieces de-wormers (wormbat), 8 pieces blood tonic, 10 pieces cough syrup, 44 pieces school bags, 1 bag 25 Kilos broken rice and 1 bag 50 Kilos rice.