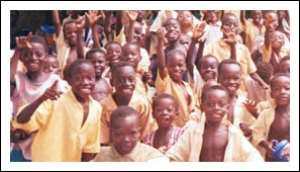 Takoradi, April 4, GNA - Basic School enrolment in the Western Region has increased following the introduction of the Capitation Grant, Mr Joseph Boahen Aidoo, Regional Minister has said.
Speaking at the first "Meet the Press" outside Accra in Takoradi, on Monday, Mr Aidoo said Pre-School enrolment increased by 22 point 3 per cent from 88,642 in 2004/2005 to 108,429 in 2005/2006.
He said enrolment in Primary Schools also rose from 251,542 in 2004/2005 to 282,631 in 2005/2006 while that for Junior Secondary School jumped from 83,226 to 91,970 in 2005/2006.
The Regional Minister stated that as a result of a pilot project of the Ghana National School Feeding Programme at the Accra New Town Primary in the Mpohor Wassa East District, enrolment hiked by 52 point 8 per cent within the first five months of its implementation.
Mr Aidoo said the Ahanta West and Wassa West Districts and the Shama-Ahanta East Metropolis had been selected for the programme this year in the Region.
The government's Mass Metro Transit free ride for school children is being implemented in Sekondi-Takoradi, while 5 point 6 billion cedis had been spent on 14 GETFUND and HIPC Primary School projects throughout the Region, Mr Aidoo stated.
He said 15 point 6 billion cedis had also been sunk into 30 other projects at various stages of completion while 36 point 7 billion cedis had been spent on 27 first and second cycle institutions.
The Regional Minister said that out of 81 projects awarded in 2003 under the upgrading of Senior Secondary Schools into model schools, 56 had been completed and handed over as at 2005.
Mr Dan Botwe, Minister for Information, stressed the government's commitment to ensure that all children had access to the Free Compulsory Universal Basic Education (FCUBE) and called on parents and opinion leaders to them to go to school.
The Minister advised the media practitioners to interact frequently with District and Metropolitan Chiefs Executives for clarifications. 04 April 06