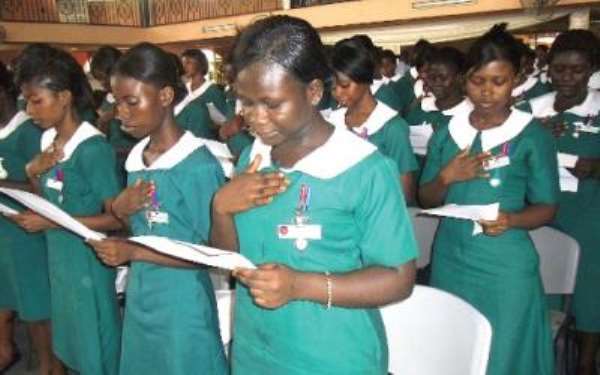 The central regional branch of the Ghana Registered Nurses and Midwives Association (GRNMA) is being micro managed by few individuals to the dissatisfaction of the grassroot members and this is giving the rival group the opportunity to win members to their association.
There are diabolic plans to take out some candidates in the upcoming GRNMA regional election in the region for fear of losing their preferred chosen candidates. Neither the grassroot members nor applicants who applied for the various positions know or have seen the official list of candidates with their naked eyes after three good months of filing their nominations, let alone being aware of the timelines or roadmap for the elections.
All these are being orchestrated by the Chairperson, Madam Mercy Charway led administration and we are not happy with the manner in which they are keeping information and doing everything in secret as if GRNMA is a family business. Even after the close of nominations some people are still been contacted secretly to pick forms despite close of nominations. We have no access to council reports and finances are kept in secret and members never get to see them. Some of the district executives who openly speak against some of these ills are sidelined and some unduly transfered to different districts to keep them mute.
The filing of nomination was open and closed on 16/09/2019 and subsequently a vetting committee was constituted without the knowledge of the regional Council contrary to the GRNMA constitution which stipulates the process of constituting a vetting committee. The district executives protested against the chairperson at their Regional Council meeting especially with regards to the inclusion of the Chief Nursing officer in the vetting committee.
Some regional executives were not even in the known of the names of the members of the vetting committee. The agitation was so forceful that the person (s) behind that move dropped the CNO and the Chairperson later replaced her though without consultations again.
The initial date which was fixed for the vetting was cancelled due to protest over lack of Terms of reference for the vetting committee and they do not know when the vetting will come off as they do not also know who and who filed for what and they are not happy about how things are going on in the central regional branch of GRNMA.
Information and decisions are made solely by the chair, Madam Charway and the Secretary Mr Alfred Addy (who is aspiring for the chair position) who she is doing all things possible to install as the next chair despite his unpopularity among members.
I am calling on the national GRNMA, especially their regional parent, Mrs Perpetual Ofori-Ampofo (President elect) to call the regional chairperson to order else the region will lose its members to the rivalry association because the grassroot members are not happy about the turn of events.
Danso Abiam K.
Concerned nurse, Central region
[email protected]