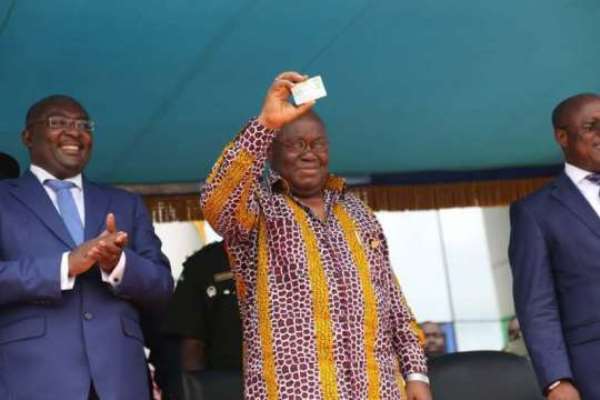 Recently, the Jocular Vice President Bawumia hinted that the Ghana card could be used for voter ID card registration. Let's examine its implications.
NIA from June 2018 to September 2019 registered 2,902,526 people in GAR, VR and Oti regions. Out of this number, 2,590,526 cards had been printed and 1,718,021 cards had been issued to applicants in the three regions as of September 14, 2019.
This was an interview the Head of Corporate Affairs of NIA Francis Palmdeti granted to joyfm on 17th September 2019.
Regional breakdown
VR - 556, 559 registered
Oti-387,057 registered
GAR- 1,958,910 registered
Now let's do simple arithmetics. If you sum up the figures from VR + Oti, it will give you 943,616 registered people.
Now compare that to the total number of registered voters in Volta Region (VR+Oti) in 2016 which stood at 1,282,3016.
Greater Accra Region had total registered voters of 3,063,985 in 2016.
Now, since Ghana card has a wider age requirements range, if you want to know if some Ghanaians have been disenfranchised or not as far as Ghana card registration is concerned, you simply need to subtract the total number of registered voters in 2016 from VR+Oti combined from the number of people who registered Ghana card in VR+Oti and you will have -338,690 people. It means that, even if NIA had decided to peg the age requirement for the Ghana card at the same level with the voter ID card, it would mean that 338, 690 registered voters in 2016 have been left out.
If you apply the same analogy to the Greater Accra Region, you will get −1,105,075. It also means that even if NIA had pegged the age requirements for Ghana card from 15 years to 18 years, same as Voter ID age requirements, it would mean that, 1,105,075 have been left out of the Ghana card registration.
Now, note something important, the age requirements for Ghana Card is 15 years and above while the age requirements for a voter ID card is 18 years and above. So under normal circumstances, it means that NIA should register more people in GAR, VR and Oti regions respectively than what the voters register contained in 2016 based on the age differences.
Mind you, those who were 15 years in December 2016 are now 19 years as at December 2019 and are qualified to vote in this year's elections. Those who were 14 years and 6 months in December 2016 are qualified to register as first-time voters later this year.
I don't believe that in less than 3 years (Dec 3, 2016, to September 2019) −1,105,075 people have either left Accra or died.
I do not also believe that-338,690 registered voters either left the Volta Region and Oti or died during the same period.
The analysis on the three regions GAR, Volta Region and Oti Region alone should give Ghanaians a clear picture of attempts to suppress the will of the people if Ghana card is going to have any role in 2020 elections.
Reg. Voters as at 3 Dec. 2016 provided by Eric Dzakpasu EC PRO, 2016
GAR - 3,063,985 voters
AS-2,872,619 voters
ER-1,605,943 voters
NR-1,427,917 voters
WR-1,582,491 voters
BA-1,406,934 voters
CR-1,405,976 voters
VR-1,282,306 voters
UER-648,788 voters
UWR-415,539 voters
Happy new year.
Baba Musah