GoodSeed NGO Fetes Over 500 Deprived Children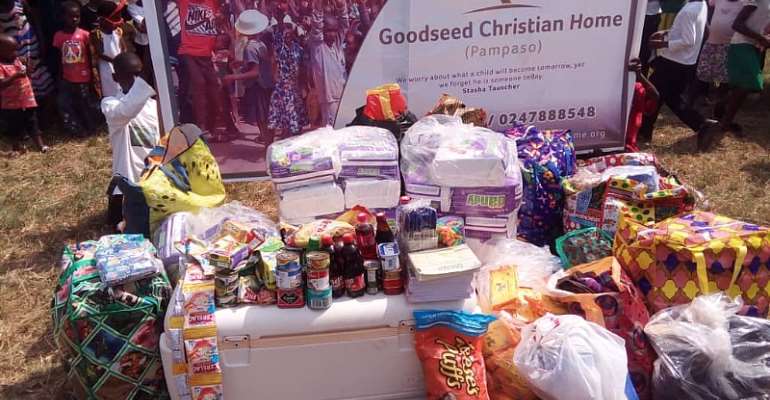 Goodseed Christian Home, a charity organization has put a smile on the faces over 500 deprived children through a feast in Pampaso near Suhum in the Eastern region.
The feast, which begun with a float amidst brass band through the principal streets of the area was in collaboration with the First Love Foundation.
First Love Foundation, under its "Health Love Train" Campaign seized the opportunity during the float to educate the town folks on the dangers of cholera and malaria and the need for them to practice cleanliness at all times.
After the float, all the children converged at the Panpanso school park where they were fed with a sumptuous meal, drink, and confetti.
The children who were overly elated were also thrilled with good music amid dancing and musical chair competitions.
The founder of Goodseed Christian Home, Mr. Benedict Lamptey explained that the feast forms part of his social responsibility of giving back to society.
According to him, children particularly the deprived are special in the sight of God hence the need to support them.
"These children need a lot of support from us to reshape them into the society for good" he stressed.
Mr. Lamptey, who is a fiberglass expert added that it gives him joy and inner satisfaction any time he sees children happy.
According to him, this is the fourth feast in series for the children of Panpanso since the inception of the NGO four years ago.
He reiterated his commitment to continue to support the children and people in the area by providing social amenities like water since the area lacks potable water.
He, therefore, called on corporate institutions and donor agencies to come to support the NGO to enable them to achieve their social objective of supporting the needy and deprived communities.
On his part the manager of Goodseed Christian Home, Mr. Emmanuel Yao Boafo revealed that the children are trained in dressmaking and hairdressing to give them a professional skill at their tender age.
He said some of the children have been enrolled in school to the SHS level and that the NGO is committed to doing more for them.
First Love Foundation, which was founded in Achimota School in 2017, later donated a lot of toiletries, biscuits, drinks, used clothes and shoes to the Panpanso based Goodseed Christian Home which was also shared amongst the children and their mothers.
The President of First Love Foundation Ms. Grace Sarfoah Asabre said they were motivated by the deprived conditions of children in the area and the good works of Goodseed Christian Home.
---SenaRadio.com