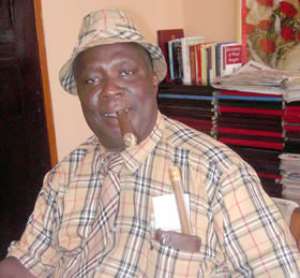 PNC is a "Chinchinga" Gang Positive change is 'kalabule' change Buckets At Traffic Lights For People To Drop In Coins to finaance the new party "I Like Mahama But He Is A Little Bit Foolish" After hopping from one political party to the other in a quest to quench his thirst for political power, maverick Charles Kofi Wayo has made public his decision to contest the 2008 presidential elections on the ticket of a yet-to-be-launched political party of which he is the founder, owner, leader and declared standard bearer. The Ghanaian born American styled politician in an interview on a local radio station last Wednesday announced that he has formed a political party named the United Republic Party (URP) and he hopes to become the next president of Ghana via the URPs ticket. Asked by the host of the programme, if he had resigned from the People's National Convention (PNC), a political party which accommodated him after he left the New Patriotic Party (NPP), Kofi Wayo answered in the affirmative and added: "It is a corrupt Party so I do not want to part. Meanwhile prior to the 2004 general elections, Kofi Wayo had openly supported the PNC.

Host: Have you resigned?
Kofi Wayo: Yeah! I have resigned
Host: You are sure? Yesterday I checked and I'm not sure whether you have resigned
Kofi Wayo:- What do you mean? Tell them I have resigned! (he screamed)
Host: Have you sent them a letter of resignation
Kofi Wayo: (chuckles) I ain't got time. They are useless
Host: So how did you resign? You are still a member of PNC
Kofi Wayo: why have I got to resign? Did I send my application before I went in? Kofi Wayo explained that he never officially applied to join the PNC but because he had a liking for Dr. Edward Mahama, he, just walked into the PNC. Kofo Wayo then used his 'left hand' in pointing at the PNC when asked if he still likes Dr. Mahama. "Yeah I do, I like Dr. Mahama. He is a nice guy, the rest of the gang over there, you know what I call them? They are chinchinga gang – they don't know anything!"

They don't care about nothing. All they want is a little money to go and have a drink and talk a lot of "baluuba", that's all. Kofi Wayo Charged. For our reading audience, Chinchinga is sliced thin pieces of meat grilled deliciously with spices, it is also called 'khebab'. In Ghana and many African countries, it is prepared and sold mainly by young men of northern origin.

Kofi Wayo bragged that if President Kufuor had given him the chance, he would have created two million job opportunities by now and added 400 megabytes of power to the electricity generated at Akosombo. He alleged that both former President Rawlings and President Kufuor are criminals and thus refused to give him an opportunity.

"Mahama gave me a lot of chance but I turned all of it down. Look Mahama is a very nice guy but he is not a leader. But he has a good heart and that is what I like …So I like Mahama but he is a little bit foolish. But I like him", Kofi Wayo stated further.

On how the URP is being funded, Kofi Wayo said as at now he finances the party but in the near future, buckets would be put at traffic lights for people to drop in coins with which the party would be financed. The presidential hopeful politician said though his party believes in democracy, in the event that congress chooses from one of them a leader who will do business with the World Bank and the International Monetary Fund (IMF), he would fight the person. "I will fight him because we have seen what has happened in Ghana so far and I want to change.

I came here for a change. What Kufuor said was a positive change, I did not know it was a 'kalabule' change. Kofi Wayo said the symbol of his party is an open hand, showing the palm and five erect fingers, the philosophy is that the African nation lives up to Kwame Nkrumah's idea that the black man can take care of himself'. He said the party's colour is opaque and will be launched at a press conference in May.