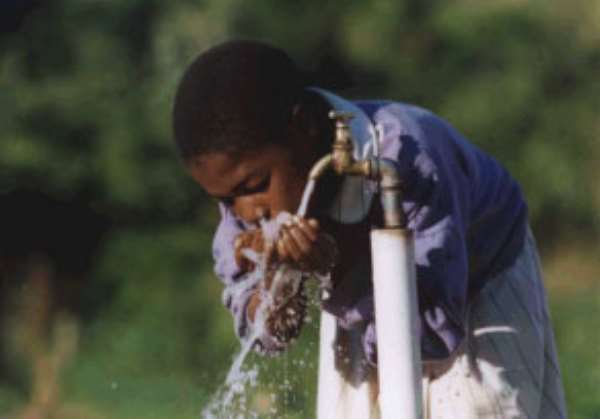 Wa, April 03, GNA - Government has provided 27 billion cedis towards the provision of potable water to eight small towns in five districts of the Upper West Region this year.
About 4.9 billion cedis would be spent on water projects in the Jirapa/Lambussie district, 4.2 billion cedis for Nadowli district and 9.8 billion cedis for Lawra/Nandom district.
At Gwollu in the Sissala West District, about 2.1 billion cedis would be spent and 5.8 billion cedis for the water projects at Tumu and Sakai in the Sissala East District.
Contracts have been signed and work on the projects expected to be completed within eight months would begin this month. Mrs Blandina Betty Batiir, Upper West Regional Director of the Community Water and Sanitation Agency (CWSA) disclosed this to the Ghana News Agency at Wa.
She said funds for the projects under the second phase of the Community Water and Sanitation project was part of a 26 million dollar World Bank credit to the Government.
Out of 15 small towns that were selected in the region, seven of them could not either meet the five per cent community contribution or recorded very low water table and could not be included in the first batch.
Mrs Batiir said Government therefore, decided to take over that responsibility through HIPC funds to pay for those communities.