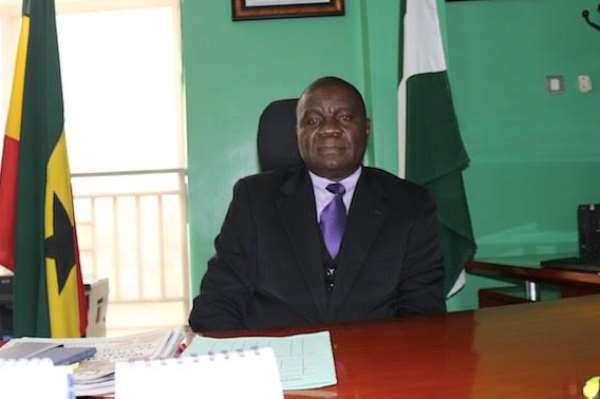 Nigerian High Commissioner to Ghana, Mr. Michael Olufemi Abikoye
It is on the main page of Ghanaweb.com's edition of January 2, 2020; and the news article is captioned "Diplomatic Row Looms as Ghana Evicts Nigeria High Commission." The story originated from the Classfmonline.com media website, another of the major Ghanaian media outlets, as it were. If the details of the story given readers, thus far, are accurate – and we have absolutely no reason to believe that they are not – then it well appears that the Nigerian High Commissioner to Ghana, Mr. Michael Olufemi Abikoye (the Nigerians prefer the much smarter way of making their Euro-Colonial names their middle names), may be trying to take the globally putative hospitality of his host country for granted, by refusing to promptly settle rental payments due the Government of Ghana while irrationally and adamantly refusing to vacate the property that he and his High Commission / Embassy have been occupying at No. 10 Barnes Road in Accra.
Such flagrant dereliction of residency contract would not happen here in the United States or any other civilized democracy anywhere in the world, for that matter, and Commissioner Abikoye perfectly knows this. Not to play politics here with such a quite serious and disturbing matter, but it is very certain that such roughshod riding over a residency or tenancy agreement would have been tolerated by the leaders of the previous Woyome-kleptocratic Mahama-led regime of the National Democratic Congress (NDC), actually beginning with the founding-father of the latter party, former President Jerry John Rawlings, John Evans Atta-Mills, late, and definitely John Dramani Mahama. Now, we don't know this yet, but maybe the Nigerians have decided to call back or demand the bribe sum of $5 Million USD that was allegedly stolen from their National Treasury during the extortionate tenure of Gen. Sani Abacha, late, and divvied up by then-President Jerry John Rawlings and the latter's National Democratic Congress' Abongo Boys, including, notably, the world-infamous Ahwoi Brothers.
Well, as you, My Dear Reader, may already know, after denying this inexcusably scandalous fact for two decades, Chairman Rawlings confessed to the same to a very smart Nigerian journalist who tricked the half-Scottish SOB and "revolutionary" butcher about the same. Even so, this would not be the problem or the lookout of President Addo Dankwa Akufo-Addo and the latter's ruling government of the New Patriotic Party (NPP). Not by any stretch of even the flightiest imagination. If the preceding observation contains any iota of validity, then, well, about all that we can say for now is that Commissioner Abikoye knows where to find Chairman Rawlings and the thievish band of NDC Abongo Boys who, allegedly, knowingly and deliberately solicited and/or took illegal and criminal receipt of money belonging to the Nigerian taxpayer, and thus the Nigerian Government at large. Parliament may also decide to establish a commission of enquiry into this diplomatic impasse, for I strongly suspect that Candidate John Dramani Mahama or one of his boys or girls may have taken something from the Nigerians in the runup to the 2016 general election, if not well before that.
At any rate, the Americans and some of their Western allies with embassies and diplomatic missions in Ghana and elsewhere on the African continent have since long shown the rest of the world that the best way to get around such a basic problem is for the Nigerians to purchase their own land in Ghana and then construct their own edifice; and then all that would be left to do would be to pay any periodic tax levies attached to the land. The Ghanaians did precisely this in New York City, right here in the United States, in the early 1970s, when then Head-of-State, Gen. Ignatius Kwasi Kutu Acheampong, brutally slain by Chairman Rawlings and his self-righteous fat cats of the Armed Forces Revolutionary Council (AFRC), paid an official working visit to the United Nations' Headquarters and discovered to his horror that Ghana was paying a prohibitive rental amount for housing and an office space that was so humungous it could actually pay for the entire building which it was occupying on 47th Street and Madison Avenue.
The Nigerians would follow suit some two decades later, in the 1990s. so what is Commissioner Abikoye and his boss at Aso Rock, Abuja, namely, President Mahammadu Buhari, waiting for? Actually, it would be Nigeria's External Affairs Minister, as they usually call their Foreign Minister, Mr. Geoffrey Jideofor Kwusike Onyeama, that Commissioner Abikoye would be talking directly to in the wake of this impasse. Come on, petulant Abikoye, wake up and smell the Eba and Okro Soup; it is a new era in Ghana. The nation-wrecking NDC thugs are out of Jubilee House. And we intend to keep them out and on the streets for the foreseeable future.
By Kwame Okoampa-Ahoofe, Jr., PhD
English Department, SUNY-Nassau
Garden City, New York
January 2, 2020
E-mail: [email protected]
*Visit my blog at: kwameokoampaahoofe.wordpress.com Ghanaffairs