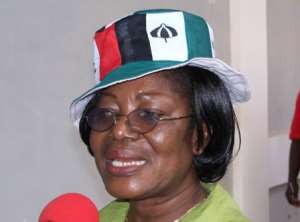 The National Women's Organizer of the National Democratic Congress (NDC), Madam Ama Benyiwa-Doe, has called for the arrest and prosecution of the Former NDC Member of Parliament for Tamale Central, Prof Wayo Seini, who recently crossed carpet to the NPP, for causing financial loss to the state.
According to Benyiwa-Doe, the intolerable gross misconduct of a disgraceful and self-centered Wayo Seini has immensely caused the state to waste time, energy and national resources to conduct another bye-election, which money she said, could have been channeled into education and health.
Addressing NDC supporters in the Tamale Central at a rally organized by the party for its candidate, Lawyer Inusah Fuseini, Madam Ama Benyiwa-Doe stated that there were a lot of pressing national issues the country needed to tackle for its progress, but which had been put on hold because of this bye-election.
She described as disgraceful, the fact that Wayo was contesting the Tamale Central Parliamentary Seat again, after disappointing the electorate in the constituency. The NDC National Women's Organiser therefore called on the electorate not to consider a person like him during the forthcoming bye-election and vote massively for a candidate like Lawyer Inusah Fuseini, who had the plight of the people at heart.
"We in the NDC have resolved to vote for a Member of Parliament who will be concerned with the people's interest and not for his or her own selfish interest. As far as I am concerned, Wayo Seini should be tried and prosecuted for having wasted our time and resources. Wayo Seini has not only wasted state resources, but has also wasted the resources of some political parties, particularly the NDC and its followers, who committed their time, energy and resources for his victory in the 2004 elections and we must legally compel him to pay the debt and disappointment caused us and the state," she said.
Ama Benyiwa-Doe also challenged Mr. Wayo to render an unqualified apology to the NDC and the electorate in the Tamale Central Constituency.
She urged the people not to consider him in the upcoming bye-election because he could bring another disgrace to them.
"We should have all been doing our works by now, yet we are here wasting time, energy and resources here again, campaigning for a member of parliament for Tamale Central," she regretted.
However, the NDC woman alleged that her presence in the NDC was a threat to the ruling NPP, who had, according to her, assigned some men to work on her. But she did not specifically mention whether or not functionaries of the NPP were planning assassination. She said that she had been the very woman who has been defeating the NPP gurus on radio and would continue to do so and expose them anywhere, anytime. "This is why they are always after me, organizing press conferences and trying to work against me."