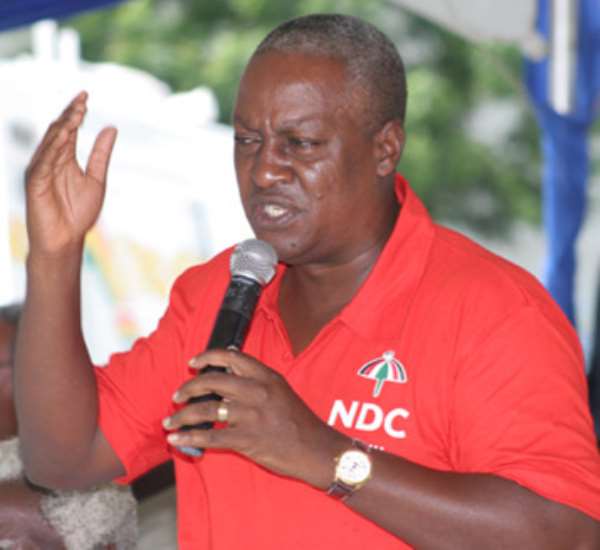 Until he wrote his recent apology to Ghanaians, I suppose to most of his fans and patrons, as well, saying that he was very sorry for having jabbed on-stage, during a masterful performance, that the last or surname of former President John Dramani Mahama was lexically interchangeable with the most common word in Ghana's political dictionary, I had never heard the name of the popular local comedian by the name of OB Amponsah (See "Comedian OB Amponsah Apologizes to Mahama after Backlash from Ghanaians" Adomonline.com / Ghanaweb.com 12/26/19). I have absolutely no doubt in my mind that the Ghanaians referred to in the news article reporting the apology by Comedian OB Amponsah are almost exclusively members, supporters and sympathizers of the country's main opposition National Democratic Congress (NDC), otherwise I don't know who else would be miffed by the plain-truth jokes of this clearly inimitably genius of a Ghanaian comedic act.
I mean, who never heard of the locally renowned and celebrated Ghanaian investigative journalist by the name of Manasseh Azure Awuni track down a Burkinabe road and building contractor, who publicly and personally confessed that, indeed, then-Vice-President John Dramani Mahama had successfully extorted the bribe item of a $100,000 (One-Hundred-Thousand US Dollars) worth of a Ford Expedition SUV, shortly after Mr. Jibril Kanazoe had been awarded a lucrative contract having to do with the construction of a boundary wall around the Ghana Embassy in Ouagadougou, the capital of Burkina Faso? Then also, who is not aware of the story about a newly elected President John Dramani Mahama – or Interim-President John Dramani Mahama – being asked by a BBC-TV reporter whether he had ever solicited or received an item of bribery, cash or kind, in any official capacity, and the subject of such questioning asking the reporter whether the point of reference was in his pre-presidency or Mr. Mahama's post-presidency era?
Well, I never personally witnessed or watched this seismic journalistic moment, but I reliably understand that the Communications Minister under the tenure of Chairman Jerry John Rawlings had politely and, perhaps, sheepishly as well, further probed in what specific capacity Mr. John Bull was most interested in learning about Mr. Mahama's common-knowledge inordinate penchant for bribery solicitation and the ready reception of the same. "Button-A or Button-B?" the luckiest Ghanaian political scam-artist alive is widely reported to have flirtatiously replied. The Bole-Bamboi-born son of a former politician, the latter himself with his own remarkable flair for bribery and corruption in the Nkrumah-led Convetion People's Party (CPP) government, had obsequiously demanded to know. "Mister, do you want to know whether I ever received any bribe as Vice-President of Ghana or, presently, as the bona fide and substantive Spare-Tire Alumnus of the Sovereign Democratic Republic of Ghana?" We are further informed that "Little Dramani" had promptly responded: "Of course, payolas are integral to my job description! What else do you want to know, My Lord?"
Now, isn't such demand for clarification vis-à-vis the patently criminal act of bribery an inexcusable mess in of itself? Well, we also understand that the scandalously glorified SOB had impishly revealed a smirk and smugly snapped as follows: "Of course, of course, I definitely have received quite a slew of bribes in my very successful career as a privileged major public officer! What is wrong with that?" It was almost as if "Little Dramani" wanted Mr. John Bull to feel sorry and stupid at the same time for having asked such an obviously lame question. Indeed, I have absolutely no doubt in my mind, whatsoever, that Comedian OB Amponsah – I actually initially confused him with Mr. OB Amoah, I believe that is his name, the New Patriotic Party's Member of Parliament for my own royal stool and hometown of Nsawam-Adoagyiri, that is – had on second thoughts decided that the prompt and immediate rendition of an "unqualified apology" was the safest and most expedient way to go at it, if he really expected to live past the year 2019 and be able to cast his ballot, obviously and definitely in favor of President Addo Dankwa Akufo-Addo.
You see, Dear Reader, the so-called apology or "unqualified apology" was not really about any heartfelt or remorse-generated apology. It was simply and squarely that Comedian OB Amponsah knew as well as yours truly that the entire NDC constabulary of staunch Mahama supporters and sympathizers was composed of human landmines like the one that allegedly detonated and blew up the noggins of the then-boss of our Dear Little Dramani, in the wee hours of July 12, 2012. Back then, as I vividly recall, about all that Little Dramani could tell his visibly shaken countrymen and women was that the chain-smoking retired Legon tax-law professor had been auspiciously and opportunely jackbooted out of the way by "Divine Providence in his most inscrutable wisdom." I bet Comedian OB Amponsah had this most mnemonically indelible event in the back of his mind, when the poor young standup act decided to compose his very robotic apology dated December 26, 2019. Wallahi-Tallahi! Tallia on rice-and-beans! Hey, Little Dramani, me too, I profusely apologize!
By Kwame Okoampa-Ahoofe, Jr., PhD
English Department, SUNY-Nassau
Garden City, New York
December 28, 2019
E-mail: [email protected]
*Visit my blog at: kwameokoampaahoofe.wordpress.com Ghanaffairs