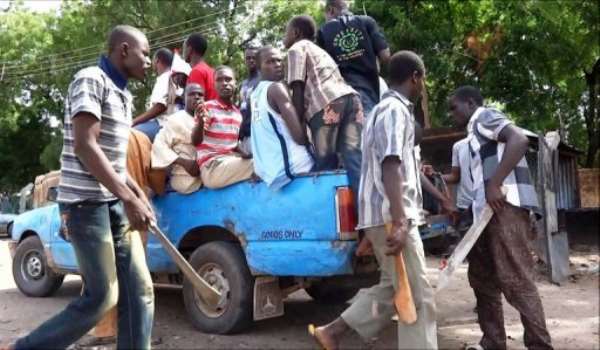 My fellow Ghanaians, Happy New Year.
This piece is for the anonymous young man who called following my opinion piece on the ambulance saga. He asked, "I know you are right but I can't disagree with my party. How can I be loyal to my party AND a good citizen?".
The tension between good citizenship and party loyalty has always existed. Parties contest for power and to some extent, their success depends upon opposing parties not doing well. This sometimes lead well-meaning parties and leaders to take positions and actions that are wrong and sometimes harmful to their country.
When the Democratic party decided to fight the Union on the side of slavery, they were wrong and many Democrats put America and freedom ahead of their party by joining forces with Republicans. Andrew Johnson joined Lincoln's ticket to oppose his party.
In 1884, many Republicans-- the Mugwumps-- abandoned their party to help Democrat Grover Cleveland become the first Democrat to reach the Presidency after the civil war because they believed Republican candidate James Blaine was corrupt.
These historic actions have echoed throughout American history-- culminating in the Obama supporters who abandoned Hillary to send Trump to the presidency.
This ability to put country ahead of party and principle ahead of politics is not American-- it is universal.
When Mandela defied the ANC to negotiate with apartheid authorities-- or when he denounced Mbeki on the question of HIV, by putting South Africa and South Africans ahead of the ANC, he was demonstrating citizenship. When in 1962, Gbedemah called out Nkrumah and the CPP that he helped to built, he was demonstrating citizenship. When in 1979, Paa Willie helped put Limann in the Presidency ahead of the Danquah-Busia candidate, he was demonstrating citizenship over partisanship. And when President Rawlings in 2016 abandoned the candidate of the party he had founded to support the NPP candidate, he was demonstrating citizenship.
Unfortunately, there are examples of the catastrophic consequences of party loyalty taken to excess. Aside from the American Democrats in the civil war , there are others. The Germans who became the Nazi action troopers were just party foot soldiers whose loyalty to Hitler led them to become the shock troops of the party and army of Hitler. We know what happened-- the Second World War and the Holocaust. In Ghana, before independence, the clash between the CPP and Matemeho footsoldiers led to deaths, injury and a lot of pain. Even in this 4th republic the toll of excessive party loyalty can be counted in places as disparate as Atiwa, Kunbungu, Accra (Kume Preko), Lamagushie, Ayawaso West Wuogon and other places. Some are buried in unmarked graves while others who were maimed live in pain. Even when there is no violence footsoldiers give cover for their parties to practice corruption, nepotism, impunity and judicial chicanery. I have been told that two very different lessons were learned from the Ayawaso West Wuogon incident. Those who got away with it feel emboldened for 2020. Those who got victimized are preparing not to be victims again in 2020. Those who should have called people out have lost credibility by their silence. And if there is violence, their calls for peace will be ignored.
The task of true citizens was defined by President Akufo-Addo during his inaugural address, simply and powerfully, " I ask you to be citizens, not spectators; citizens, not subjects ". The truth is that footsoldiers do more harm than spectators and subjects.
My fellow citizens, here is what should be our creed as citizens:
1: My country matters more than my party.
2: When my party acts in the national interest, I will applaud and support it.
3: When my party acts against the national interest, I will oppose quietly and then publicly.
4: During party deliberations, I will be guided by my party's principles and measure the actions of party leaders against those principles.
5: Whenever I have to choose between peace for my country and a tainted victory for my party, I will choose peace for my country.
6: I will not defend my party on conduct and positions that I helped my party to oppose in opposition when my party is in government.
7: I accept that there are good and bad people in all parties-- including my party.
8: I am against corruption, regardless of who is in power.
9: I believe in facts and truth regardless of which party is helped or harmed.
10: I respect the right of other parties to exist because I support multi-party democracy.
God bless our democracy.
God bless our political parties.
God bless Ghana.
Arthur Kobina Kennedy (1st January 2020)