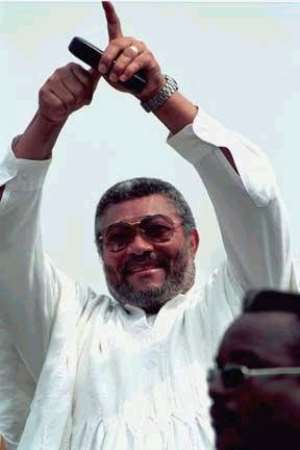 Tamale, April 2, GNA - Former President Jerry John Rawlings on Sunday said the NPP failed to field a candidate for the Tamale Central Constituency by-election on Tuesday, out of fear of a humiliating defeat. He said the NPP had also abandoned Professor Al-Hassan Wayo Seini, because they could not trust him again and he had now been "left in the lurch". Mr Rawlings, therefore, apologised on behalf of the executive body of the NDC for inflicting pain on the people by imposing Professor Seini on them during the 2004 elections. The former President, who was addressing a well-attended NDC rally in Tamale, said, "When Professor Seini was nominated to stand for the constituency, some members of the party expressed doubts about his trustworthiness and now they have been vindicated". Dr Kwabena Adjei, National Chairman of the NDC, Mr Johnson Asiedu Nketiah, General Secretary and Madam Fati Jawula, a member of the Council of Elders of the party, assisted Mr Rawlings to introduce the party parliamentary candidate for the by-election. The Former President said the NPP had been cruel to the people of Dagbon and had been trying to divide them on family lines. "But come and see the great reception the people of Dagbon have accorded us, which indicates there is unity among them" Mr Rawlings described the NPP as "being too cruel with no sense of integrity and honesty", saying, "They can never change and that is the more reason why you should remain steadfast and loyal to the NDC to chase the NPP out of power, come 2008". The founder of the NDC made reference to the NPP manifesto, whose thrust is "Development in Freedom," and noted that there could be no freedom and development without justice. He assured the people of Dagbon, "One day justice will prevail". Professor John Evans Attah Mills, the NDC presidential candidate for the 2004 general election appealed to the people to comport themselves and come out to vote peacefully. He predicted that the NDC would win the 2008 general election massively to bring hope to the people and "disperse the darkness that is currently engulfing the country".
Mr Johnson Asiedu Nketia said the NPP government had embarked on a policy of providing jobs and employment based on party affiliation and ethnicity and warned that social justice, peace and unity would not be achieved in such an atmosphere.
Mr Danny Ofori-Atta, a leading member of the Eagle Party, announced that his party and other like-minded political parties would form a coalition with the NDC for the 2008 elections to wrest power from the NPP.