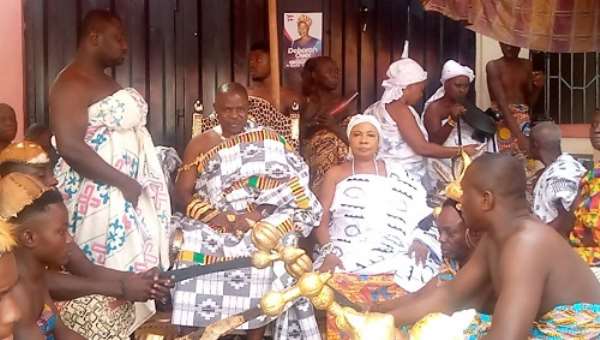 Some Chiefs, Queens and residents in the Ejura Traditional Council in the Ashanti region have expressed their deepest appreciation to their Chief, Barimah Osei Hwedie II for bringing massive development and his transformational agenda to the area since he assumed the position for the past four years.
According to them, series of unprecedented infrastructure development projects springing up in all the communities within 4years of his reign was amazing.
Speaking to this reporter, the Queen mother of Aframso, Nana Abenaa Dufie of who spoke on behalf of the remaining sub-chiefs and queens in the area enumerated construction of six-unit classroom block for the Ejura Anglican Primary School, a fully furnished new apartment for the Director of Health in the Ejura -Sekyedumase Municipality, a construction of new bungalow for Fire Service Personnel in the area amongst others imitated by Barimah Osei Hwedie II.
Nana Abenaa Dufie continued that the chief is sponsoring over hundred underprivileged students education, creation of over 20 additional chiefs in the area, fostering peace and stability in the area by involving all tribes in all programs and activities under his jurisdiction are some remarkable achievements he has chalked in the spate of four years.
"Barimah we want to inform you that we are seeing a major transformation in our communities. We are witnessing positive changes in the lives of our people, and that we are seeing a much better future for our children and generations yet unborn", Nana Abenaa Dufie stated.
Mr Kofi Yeboah, who also spoke on behalf for the youth in the area, expressed their profound gratitude to Barimah Osei Hwedie II for his strong leadership and stability since he took over the affairs of Ejura as chief.
"Nana has played and continues to play important role in the area of humanitarian activities, quality healthcare and education", said the Youth leader.
Responding to his subjects in an address at a durbar to mark the last Akwasidae festival of the year on Sunday December 29, 2019 at his Palace at Ejura, Barimah Osei Hwedie who is also the Protocol Director at the Office of the Vice President, thanked the people for massive confidence reposed in him as the leader of the traditional area and expressed highly optimism that the people of Ejura will experience many projects come 2020.
He assured the communities of good leadership, a disciplined society and peaceful coexistence.
Barimah Osei Hwedie II reiterated his total commitment to serving his people with a call on residents to remain resolute and support programs and initiatives that may take off in their various localities.
Barimah Osei Hwedie II used the occasion to appeal to Ghana Police Service to take immediate actions to stop increasing robbery incidents in the area.